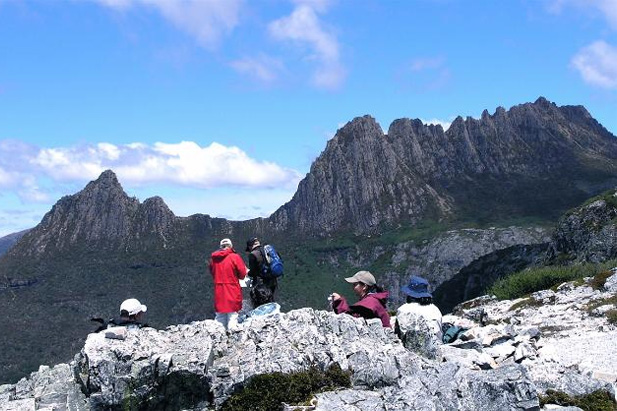 A climb to view Cradle Mountain is a compelling walk on our Tasmanian Holidays for Over 50s
In the past, many mainstream Holidays for Over 50s have been booked with very little research.
Rather a reliance on friends comments, the recommendations of a glossy brochure or friendly agent.
The internet and direct access to tour operators has changed the potential of holidays for Over 50s
Now you have the luxury of a direct informed enquiry
Talk to your tour operator for first hand experiences, commitment and sense of demeanour
You deserve personal assistance and an opportunity to express your thoughts and needs
Facts you might like to know about your Nature Bound holiday
We design the tours for ready access to a major city and convenient flights connections
Tour vehicles are built for outback conditions and travel comfort, maintained and serviced before every tour
Your guides are friendly, informed and caring
Health and wellbeing as a lifestyle, is a primary consideration in tour design
You can savour the benefits of re-connecting with nature, a release from the pressures of everyday life
All tours are accommodated, even in remote areas
All meals are provided, enjoyed in local settings often with local company. Special dietary requirements are considered and most often achievable, even in remote areas
Driving distances in a day and comfort stops are carefully considered
Multi-night stops/days add to the enjoyment and variation of the touring
Select from any of our small group extended journeys for your life's adventure. Enjoy the Nature Bound difference.
Would you like to discuss any aspects of our tours personally? Telephone today on (+61) 07 55140873, enquire on line  or email us with your questions.
Other articles in this series on Holidays for Over 50s can be viewed under:
"Tours and Holidays for singles", "Adventure in Over 50's tours", "Healthy holidays and Wellbeing", and "Holiday Bargains – Value for Money".
0