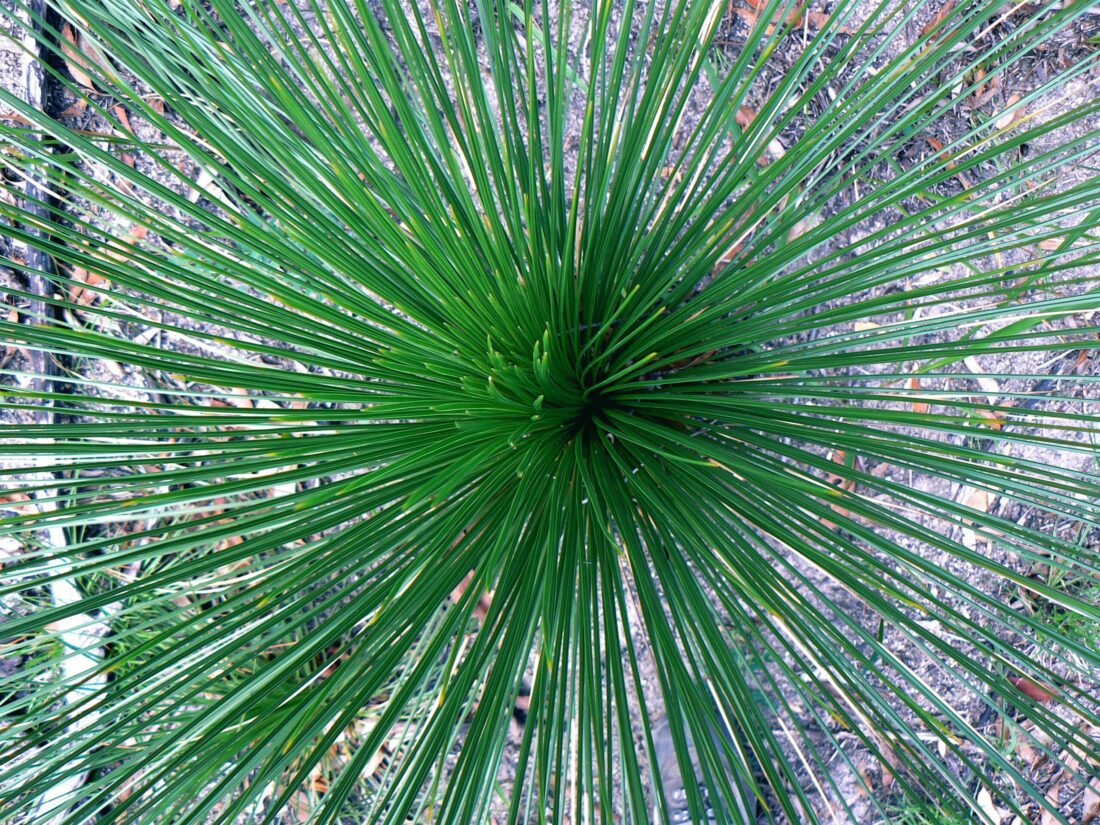 A Study in Nature, Grass Tree, Girraween National Park
Joys of life between a rock and a hard place – at Girraween and Bald Rock National Parks
Girraween National Park and neighbouring Bald Rock sit astride the Queensland – New South Wales Border, between the historic towns of Stanthorpe and Tenterfield, providing delightful trail walking and natural history insights in the early days of our 11 day Great Divide Iconic Landscapes Tour.
Both parks provide a dramatic introduction to the evolutionary Granite Belt stretching 400 kms south toward the New England Tableland and located between 600 and 1200 metres above sea level.
Apart from the tempting regional abundance of cool climate fruit orchards and vineyards, nature has generously provided in two wonderful National Park reserves:
An extraordinary scenic clutter of imposing granite outcrops, balancing boulders and rock sculptures through which to roam and adventure.
Blood pumping peaks to climb or more gentle, expansive bald slabs on which to roam, along a cascading, rock pool filled creek.
A delightfully distracting spectacle of wildflowers and ground orchids fostering the Aboriginal name of "Girraween", meaning "place of flowers". 700+ species in all.
A snap frozen landscape of face-shearing rock and crevices, testimony to the powers of climate, sun, wind, water and ice.
Lessons in nature's creative journey from hard rock to soil, to plant growth, to wild habitats and beyond.
Face to face encounters with furry, feathery and scaly residents, withering avian flights and mating calls echoing through an open eucalyptus woodland.
Uniquely, the common home of ranging wild species from all points of the compass.
A reflection of Aboriginal history, long journey pathways, ceremonies, feasts, trade, then  ultimately dispossession and conflict.
An intimate connectivity with nature in a comfortable setting for family or Over 50's travellers.
Inspiration everywhere for your informal rock garden design back home.
An "alive" landscape
250-400 million years ago the crashing of deep tectonic plates caused ocean sediments (called traprock) to be thrust inland. 
220 million years ago, molten rock (magma) from inner volcanic eruptions invaded these ancient sediments, cooling and crystallising into granite.
The rock masses cracked as they cooled and more magma of different texture was forced into the cracks creating dykes.
Weathering and erosion then removed the bedrock sediment exposing the granite scattered across the chaotic landscape we explore today.
"Sheeting cracks" occurred forming granite blocks which over time have weathered further on their corners to become boulders.
These seemingly hard granite blocks, consisting of course grains, have then weathered through climate conditions, rainwater working with dissolved gases causing chemical weathering.
Algae, a relation of seaweed, is seen staining the rocks. It provides a foothold for a new wave of Lichens to take hold, drying and swelling with rain events. 
They secrete their acids and dissolve the binding substances between the grains, so loosening and breaking down the rock, delivering sandy soil on which life depends. 
Tree roots continue the physical and chemical attack in crevices. A parade of delicately balancing boulders are left on show for all of us the see. 
Remarkably, tough boulders are under attack,  yielding to the superior forces of delicate plants over aeons of time.
The wildflowers
There are wildflowers for all occasions at Girraween with late winter to early summer providing the grand display, ranging across Heath Bells, multiple colours of Pea Flowers, Trigger Plants, Daisies, Wattles, Bottle Brushes, Lillies and Rock Orchids. Sufficient excuse to reach for the tour library, wildflower field book.
Heaths, Sundews and Terrestrial Orchids fringe the wetter swampy edges. There are 25 species of flowering Eucalypts, some endemic to Girraween alone. Sydney Blue Gums and New England Blackbutts are two species noted for spotting in other regions and following days of the tour.
All vegetation has adapted to the low nutrient sandy soil and periodic fires which invade the park. 
Some like the Grass-Trees, native to NSW and QLD, feature prominently, having a direct relationship to Aboriginal life and ingenuity.
The wildlife
The most prominent residents are the Eastern Grey Kangaroos feeding on grassed flats and along bush trails. Their story of family and birthing is fascinating and a highlight interpretation for our curious guests.
Sensitivity to the forest sounds, particularly a shuffle in the leaf litter, might reveal the hurried rush for cover of a Bearded Dragon, striking Copper-tailed or Golden Skink. Sometimes a robust Cunningham's Skink spotted sunning itself close to the safety of a rock crevice.
Highlight for many guests is the slow moving Short Beaked Echidna with its defensive burying capacities.
Creatures of the feather, come together
Reaching for the binoculars we are reminded of the flight arrivals from far distant regions and the 150 species of birds recorded in Girraween National Park.
From the south come the Flame Robins and Superb Lyrebirds (mostly heard mimicking, but not seen).
From the north come the Eastern Rosellas and various Honeyeaters
From the east come the Satin Bower Birds, Yellow Robins and Golden Whistlers
From the west come the Hooded Robins, Turquoise Parrots and Brown Tree Creepers
They all join the endangered Glossy Black Cockatoos (reliant on the Casuarina / Sheoak cones), Fairy Wrens, Spine and Thornbills, Rosellas, Wattlebirds and the colourful Mistletoe birds which posses a fascinating intestinal story.
Many birds make a hearty meal of the Double Drummer Cicadas which dominate the summer airwaves after emerging from thousands of holes lining the walking trails. 
Flowering Shrubs attract beetles, butterflies and other insects providing an abundance of food for the bird communities
There are symbiotic or "reliance relationship" stories throughout the wonder world of Australia's natural history, if we only take time to observe and understand.
Comfortable walks for the Over 50's
There are 4 or 5 feature walks provided in Girraween but our tour focuses specifically on two in a single, full day exploring the national park.
The heart beating climb up The Pyramid (3-4kms/2 hrs return) or the very long haul to the summit of Mt Norman (11 kms/6 hours return) are avoided given the focus with these is more on physical endeavour and summit achievement, rather than an informative immersion. 
They have steep, highly exposed slopes with risk of slipping after rain or heavy dew conditions.
Castle Rock and the Sphinx Trails 
The Castle Rock Trail (5.2 kms/2 hrs return) is undulating and of gentle to moderate gradient until an optional steep climb over exposed granite rocks to the summit, carefully considered with guests at the time. 
The trail skirts through open woodland with fields of massive boulders, plant and birdlife to observe.
The Sphinx Trail is an easy, flat gradient extension of the Castle Rock Trail adding a further 2.2 kms to the half-day program before our picnic lunch.  The Sphinx is a balancing boulder remarkably perched high on its pedestal and is a compelling feature when coming into view.
The Junction Trail
Our walk to The junction (5 kms/2.5 hrs return) after lunch is an enjoyable and easy one, specifically selected for its open granite rock slabs hosting the cascading creek.
Along the trail there is an abundance of flowering shrubs attracting many and varied birds. In the shade, thick mosses and maidenhair ferns are discovered.
The walk follows Bald Rock Creek which is part of the vast Murray-Darling Basin system. 
Waterholes are created by swirling stone activity and trapped rock bars. Here the water is stained by vegetable dyes and tannins. Carnivorous sundews occupy the moist surrounds of the bars.
Locally, the running water working away at the granite slabs is called "liquid sandpaper" which adequately describes nature's process. Scallops are worn into the granite bed while larger rocks leave grooves and scrapes.  A great roaming experience awaits, once at the junction with Ramsay Creek.
Bald Rock National Park
Bald Rock often described as the "rock of ages" is an impressive granite dome-like monolith 500 metres wide, 750 metres long and rising 200 metres above the surrounding landscape. From its summit the extraordinary extent of the chaotic Granite Belt landscape can be observed.
It is known as the largest exposed granite rock in Australia, if not the southern hemisphere, evidence of a violent volcanic intrusion 220 million years ago and rarely known or visited by the broader travelling public. 
The rock was considered as free or neutral ground for three Aboriginal Nations frequenting the area and was used for ceremonies and meetings along with trade.
The face of the rock is streaked/striped with water channels, algae and lichen trails, which add to the spectacle and photography.
One side folds into a deeper gully lined with resilient vegetation clinging to life in a hard place. 
Another slope is the resting place for a cluster of sculptured granite tors known as "The Brothers". Toward the summit there is a hidden elevated garden and some large balancing boulders, thankfully too heavy to roll away, causing calamity below. There is also a trig point on the summit.
To reach the summit there are two options, the shortest Face Trail , straight up the face, a heart thumping effort.
The more informative and relaxing ascent follows the graded Bungoona Trail, gently climbing all the way. A 3.2 kms loop taking 1.5 to 2 hrs. On return, there is the option of a direct face descent, if knees are not an issue, or retracing the comfortable trail back.
The Bungoona Trail passes through and under large boulder clusters/archways known as the "Titans" with impressions in the boulders filled with masses of orchids and Lilies.
The trail winds through open forest with impressive Eucalypts, Boronias and Banksias until close to the top when white markers guide the way over rock surfaces to the summit. 
There are occasional exhibits of amazing engineering feats in the Termite Mounds stationed along the trail.
Bald Rock National Park shares a common boundary with Girraween National Park making a visit to the two concurrently, most compelling.
Tenterfield
Our 11 day Great Divide Iconic Landscapes Tour is based out of the historic town of Tenterfield for ready access and group creature comforts overnight. It also provides opportunity for guests to roam the town in limited free time and soak up the history of:
The School of Arts where Henry Parkes gave his resounding political speech which led to the "Birth of the Nation"
The Tenterfield Saddlery where Broadway entertainer Peter Allen's grandfather was the Tenterfield Saddler, personal confidant to town citizens including  AB "Banjo" Paterson, one of Australia's most renowned bush poets, married in a nearby church.
Where the local solicitor/newspaper owner Major James Francis Thomas was assigned to be the defence lawyer for the Boer War crimes of Breaker Morant, later to be presented in the 1980 feature movie of the same name.
Share the Girraween and Bald Rock National Park experiences
Nature Bound Australia has conducted tours to Girraween and Bald Rock many times since 2004, just one highlight of our 11 day Great Divide Iconic Landscapes Tour.
Other tour highlights include the National Parks of New England, Apsley Falls, Guy Fawkes, Barrington and Gloucester Tops, Wollomombi, Dangers Gorge and Falls, Oxley Wild Rivers and Greater Blue Mountains, all providing exceptional natural history experiences.
Tours in 2023 are scheduled for March 2 and November 5 with numbers limited exclusively to 7 guests per tour. 
Enquire for availability at tours@natureboundaustralia.com
Media Interest
R.M Williams Outback Magazine – "Australia In Style"
Green Living Magazine  – "Rock of Ages"
0