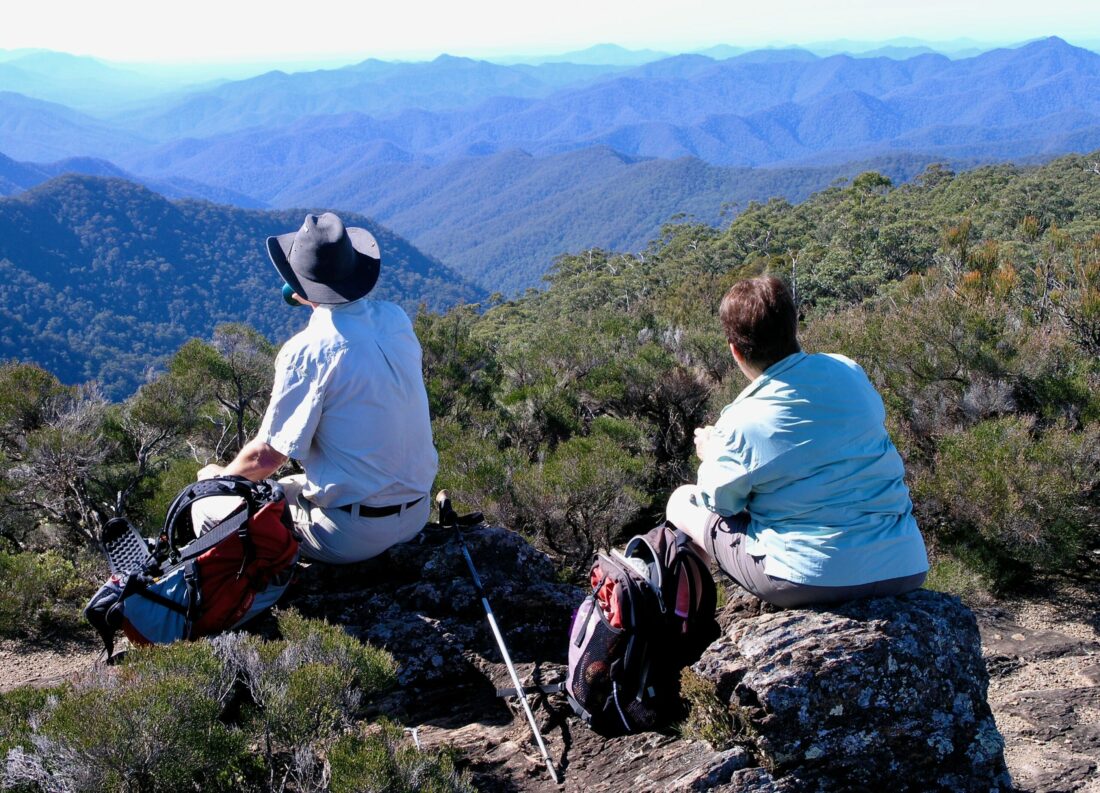 Lunch with a view in New England National Park
Immerse yourself in Australia's World Heritage, Great Eastern Escarpment
It's like all life began 85 kms east of Armidale in NSW, but not quite. However, in 1986 it was recognised internationally as a "living exhibit of evolution" – the New England National Park. A central feature of our 11 day Great Divide Iconic Landscapes Tour.
Imagine, 72,241 hectares of declared wilderness area containing remnant natural wonders from the great Gondwana times, 125 million years ago, sitting astride a precipitous volcanic escarpment, on the eastern edge of the broader New England Tableland.
Contemplate a glorious panorama sweeping from snow gum forests at 1564 metres above sea level, all the way, 75 kms to waves breaking on the Pacific beaches. 
Where only the hardiest of romantics might seek the first rays of sunrise beaming across misty valleys below or the full moon rising from the ocean……for it is that sort of place.
If there was a terrestrial example of the Galapagos Islands steeped in nature's creation, this must be it. One of the most biodiverse regions of Australia.
It's where ancestral species, like the original songbirds, find retreat. Where altitude variation supports three different types of rainforest, 10 changing plant communities and a 1000 plant species.
Where the oldest vegetation in Australia exists headed by the ancient moss covered Antarctic Beech Trees, hidden away in their own mystic refuge, gnarled by time, but surviving 1000 to 3000 years.
The annual rainfall can exceed 2,500 mm a year and heavy snow can fall on the snow grass tussocks and snow gum woodlands. Still there is sub-tropical rainforest deep below.
Mist and moisture laden clouds drift up from the lowlands to saturate the ancient forest, the curtains of air-plants and epiphytes, ferns and orchids. It's like "Lord of the Rings" is returning.
The silent charm of the forest can be  broken by the call of a Lyrebird echoing up from the deep. The variety of habitats entice an exceptional variety of birds – over 100 species.
It took a special family to save nature's legacy
In the late 1920's a local grazier Philip Wright along with friends recognised the true natural value of this wild historic exhibit, and so began a concerted effort to have the national park declared, initially 17,000 hectares in 1931.
Born and raised near Armidale, Wright rose to the heady heights of education, culminating in his appointment as Chancellor of the New England University. He was a renowned pastoralist and philanthropist, passionate about nature.
Significantly his first child was Judith Wright, raised on the family farm not far from the park, who went on to be one of Australia's finest poets and critics, short story writer in several languages. She fought many high profile conservation campaigns and was an uncompromising campaigner for Aboriginal land rights. She lived frugally, becoming increasingly deaf, putting fear into the minds of politicians right up to her passing in 2000 at the age of 85. 
Her life's mission was "to connect the human experience with the natural world".
The Landscape
The New England National Park has its origins in 5 different volcanic eruptions from the Ebor Volcano depositing 300 metres of basalt in multiple layers high above a 500 million year old bed of metamorphic rock. Uplift and erosion followed to create a near precipitous escarpment.
The Ebor Volcano was active until 18 million years ago. It measured 45 kms across, had a central plug 800 metres deep and covered 480 km2 or 120,000 acres.
High point of the escarpment is Point Lookout from which our walks radiate. The lookout has two viewing platforms from which to assimilate the panorama, or without a view, breathe in the enveloping misty clouds, depending on your arrival luck – both experiential.
A second lookout destination for one of our walks is Wrights Lookout (name familiar) located on a cold windswept stony plateau covered in stunted heath.
Running east from the world heritage escarpment are impenetrable ridges covered in dense forest, separating three deep river valleys.
First Occupants
The park straddles the pathways of 2 or 3 Aboriginal tribes who moved up from the river valleys below, seeking wildlife in summer and descending to the warmer lowlands in winter. 
Their connection to the environment is aptly told with Point Lookout being the dreamtime dwelling place of a giant wombat which no hunter dared to mess with. It had the supernatural power to create havoc with gale force winds from the valleys below and make the earth tremble if disturbed.
European farmers and cedar getters took dominion over the tribes and country from the 1840's, working up the valleys only to be halted by the escarpment. European diseases and massacres took a toll as remaining tribe members were driven into remote gorges.
New England National Park Vegetation
The road leading into Point Lookout takes visitors through a distinct transition of vegetation from open woodlands to temperate rainforest, then Snow Gums with a Snow Grass understory. 
The plant communities within the park are determined by altitude, topography, soil and wind.
In the cool temperate forests covering the lava ledges, the Antarctic Beech trees, evidence of the larger Gondwana landmass, occupy one of only four locations in Australia where they have secure refuge. They are draped in moss and lichen, hanging vines and ferns clinging to their deeply furrowed bark.
In the lower sub-tropical environments huge Staghorns, Elkhorns, King Ferns, Birds Nest Ferns and enormous Tree Ferns steal the show.
In spring time through early summer, the heath areas are a wonderful show of small delicate blooms.
New England National Park Wildlife
The Bower Birds and Superb Lyrebirds, true ancestral song bird species are ancient and unique. Previous tour guests have been privileged to witness the Superb Lyrebirds flaunting their elaborate tail and courtship display.
Our very first sighting of a Scarlet Robin on the Wrights heathland typified the serendipity moments awaiting guests on a nature based tour.
Many of the animals are shy or nocturnal, but occasional sightings of Wallabies and Pademelons scattering for cover are possible. Australia's two living fossils, the egg laying monotremes, Echidna and Platypus, frequent the park while at night Gliders and Possums come out to feed
Trails and walks
We include three walks on each visit to New England National Park, subject to weather conditions, never certain until near arrival.
Point Lookout Stroll
This trail leads a short distance from carpark to the lookout for the panoramic views, a closer study of birdlife in the Snow Gums and curtains of air plants hanging from ancient weather swept trees.
Eagles Nest Trail
This is an important immersive trail, dropping deep into the Antarctic Beech community before zig zagging back through the snow vegetation to the car park. It involves a 2.5kms circuit of varying challenges taking 2 hours to complete
The experiences are memorable but the trail in part precarious, a goat track at times, negotiating stone stairways through the dense rainforest and rock scrambling through the Beech forest. The weeping cliffs, croaking of rare frogs in wet gullies add to the sensory enjoyment.
Wrights Lookout Trail
This involves a 5.2kms/2.5 hrs return walk down an old fire trail and mid-way a short scramble up onto the open rocky heathland leading to the lookout. The experience is so different to the Gondwana Rainforest in the Eagles Nest. It was here that a practicing psychologist, tour guest from the London UK acquainted us on how important our tours are to each guest's inner soul.
Completing an awesome day
Time permitting our day visit to the New England National Park is enhanced further by a drive to inspect the beautiful Ebor Falls and the devils drop into Wollomombi Gorge and Falls, both a short distance off the main access road.
Ebor Falls
This delightful feature is part of the nearby Guy Fawkes National Park and is viewed in two drops with a short 600 metre walk between, along the gorge rim on a sealed pathway. Interpretation centres around the geology of a retreating water course and we share evidence of the falls being completely iced over one winter's day enabling park rangers to stand on a river of ice.
Wollomombi Falls
This phenomena has a drop of 230 metres with a single section plummeting over 100 metres.
Claims to fame include, the highest falls in NSW and highest single drop in Australia.
The gorge is seemingly "devil bound" with its grey slate walls originating from a shallow sea 250 million years ago. Peering into the gorge you notice a second gorge with deep slots creating the convergence of two rivers the Wollomombi and Chandler. Both are fed by very small farmland catchments.
Leaving the edge of the deep ravine, we complete a 4 kms /2.5hr undulating walk on graded path to the head of the gorges, crossing Wollomombi River in the process.  There are a number of look overs and an awesome view deep into the Chandler River ravine.
There are chance bird watching opportunities including Wedge-tailed Eagles cruising the thermals high above and Peregrin Falcons jetting through the gorge.
Share the New England National Park and high country experiences
Nature Bound Australia has conducted tours to New England National Park many times since 2004, just one full day's highlight on our 11 day Great Divide Iconic Landscapes Tour.
Other tour highlights include the National Parks of Main Range, Girraween, Bald Rock, Apsley Falls, Barrington and Gloucester Tops, Dangers Gorge and Falls, Oxley Wild Rivers and Greater Blue Mountains, all providing exceptional natural history experiences.
Tours in 2023 are scheduled for March 2 and November 5 with numbers limited exclusively to 7 guests per tour. 
Enquire for availability at tours@natureboundaustralia.com
0