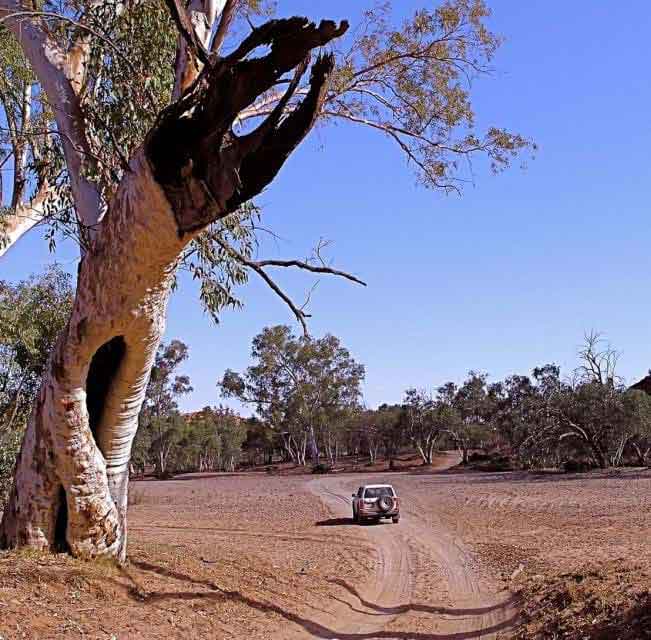 Finke River Crossing, Central Australia
It's because time will emerge at the core of your ultimate experience, though at this moment in time you may not be so aware.
It's not just about having the time to visit and when might be the best time, given your imposed lifestyle demands, the climate and creature comforts of traveling in the great central heartland. It is much more.
Consider the landscape around you and all you see was created by earthly convulsive events 550 and 1000 million years ago and how time is enabling change even to this day.
All around you, life for even the smallest sand and spinifex dwelling creatures comes down to the time of day or time of year for life's essentials, gathering food or harnessing energy from the sun – life solar powered.
It's about the urgency of life and propagation of some species when suddenly rain falls and creeks flow, ever so temporarily, when life is measured in just a few weeks.
It's about the time when miners, missionaries and doggers set out to influence the lives of First Peoples for their own questionable agendas and gains.
It's about the time when the First People of the center arrived and since have amassed their 35,000 years of wisdom into a culture driven existence we wrongly interpret as survival by our own comfortable standards.
It's about the time when our nation's leaders arrived at the momentous understanding and actions relating to ownership and hand back of the lands, where Uluru and Kata Tjuta tug at our curiosity.
It's about the timing of explorers Giles and Gosse who first saw and were able or not to reach great milestones in their expeditions, the greed to be first when in fact they were long last.
It's about what we understand to be the creation time, the conflicts of belief and debate around traditional thinking and scientific analysis.
The time to explore with an open mind and soak up a powerful sense of place.
It's about the time when the ideas of tourism emerged, not so long ago, and the impact it has had on landscape, culture, enterprise and economics ever since.
It's about the time you should give to assimilating and discovering the true Central Australia experience reaching into the deepest depths of the bucket driving your travel ambitions.
It's about discovering nurturing the great Australian spirit.
Yes, it's all about the time when you join Nature Bound Australia's Red Centre Tour.
0