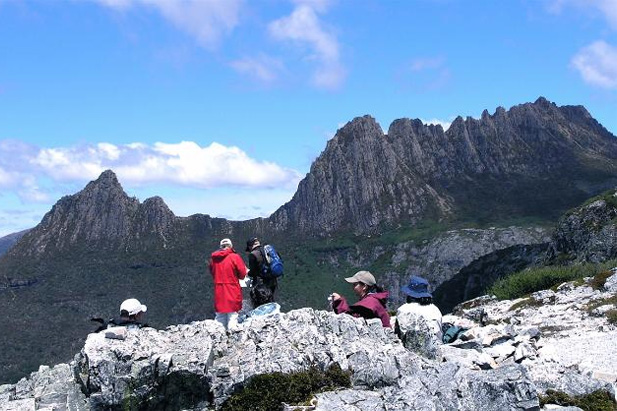 A climb to Marions Lookout to view Cradle Mountain is a compelling walk on our Tasmania National Parks Tour
In the past, Holidays for Over 50s have been booked with very little research.
Rather a reliance on friends comments, perceptions from a glossy brochure or friendly agent.
The internet and direct access to tour operators has changed the potential of choice
Now you have the luxury of being directly informed on detail and needs important to you. Take advantage of internet research.
Talk to your tour operator direct, for first hand experiences, commitment and a sense of the tour operators demeanour
You deserve personal assistance and an opportunity to express your thoughts
There is more to experience for your holiday investment than a mainstream "conveyor-belt" style tour providing superficial visitations to orchestrated features lacking true experiential value.
Facts you might like to know about our Nature Bound commitment
You have the peace of mind knowing we operate under strict ecotourism, transport and national park accreditations plus one of Australia's first travel ethic commitments.
We design the tours for ready access to convenient flight connections
Tour vehicles are built for outback conditions and travel comfort, maintained and serviced before every tour
Your guides are friendly, informed and caring. We place personalised service and empathy at the forefront of everything we do.
Health and wellbeing as a lifestyle commitment, is a primary consideration in tour design
You can savour the therapy of re-connecting with nature, a release from the pressures of everyday life
All tours are accommodated, and priced on an all inclusive basis
All meals are provided, enjoyed in local settings often with local company. Special dietary requirements are considered and most often achievable, even in remote areas.
Driving distances in a day are set around comfort stops and casual inspection of features, including short walks or roaming.
Multi-night stops/days add to the enjoyment and variation of the touring as well as settle-in comfort and convenience
Visit our Top Destinations and Experiences page to review the holiday enjoyment on offer.
Visit our Over 50s Holidays page for a complete appreciation of what it is like to holiday with Nature Bound
You can also consider one of our Guided Walking Holidays, such as the Great Divide Iconic Landscapes tour offering walks in eleven National Parks along the Great Dividing Range, between Brisbane and Sydney
Select from any of our small group extended journeys for your life's adventure. Enjoy the Nature Bound difference.
Would you like to discuss any aspects of our tours personally? Telephone today on (+61) 07 55140873, enquire on line  or email us with your questions on a no obligation basis.
Other articles in this series on Holidays for Over 50s can be viewed under:
"Tours and Holidays for singles", "Adventure in Over 50's tours", "Healthy holidays and Wellbeing", and "Holiday Bargains – Value for Money".
Stay connected.  Subscribe now for informative online insights into nature and news of "off the beaten track" adventure holidays.
0