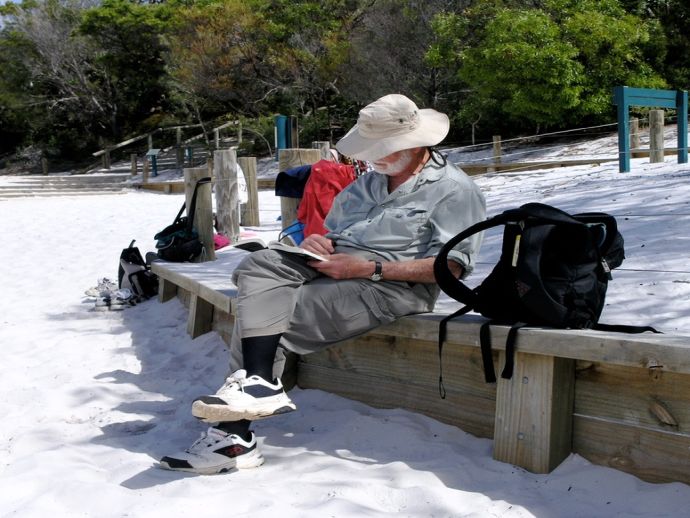 USA tour guest catches a relaxing moment on Fraser Island Lake McKenzie while others swim
At last Seniors have a holiday alternative in seeking Over 50s adventure tours
Research has shown that Seniors want more from their holidays.
28.1% of Seniors have been categorised as travel livewires
21.5% are regarded as explorers
45% seek accommodation to be included, and
25% seek an escape from other tourists and cities
Are you one of the discerning ones seeking
new experiences, new places and local people contact
an escape from mainstream
nostalgic and historic features
insights into the real Australia
Soft Adventure is the core aspiration behind all our tours, during which guests
enjoy experiences and contact with nature and people far beyond the reach of mainstream tourism
are encouraged toward new levels of achievement and awareness
attain a sense of wellbeing, expression and creativity
enjoy the creature comforts of home each night
and new found friendships that last for years to follow
If you are a spirited traveller fired with a passion for Over 50s adventure tours, then maybe a 50 seater tourist coach beating up the highway strip, delivering you to roadhouse and tourist centre queues is not quite the solution for you.
Now you can join a small group of 8 travel companions in a comfortable 4WD vehicle, exploring the outback tracks of Australia with treasured secrets revealed by informed, friendly and caring guides.
Here's some suggested Over 50s adventure tours
For world heritage alpine scenery and dramatic seascapes along with memorable walks, consider the Tasmania National Parks Tour.
If your desire stretches to remote outback settings and colourful desert scenery dotted with isolated villages, earth loving characters and natural history then our Corner Country Outback Tour, Big Rivers Outback Tour or Flinders Ranges, Lake Eyre, Red Centre Tour are perfect options.
If you would like to discuss any Over 50s adventure tours with us personally, then you are welcome to phone us on (+61)  07 55140873, enquire online or email us today.
Other articles in this series on Over 50's Holidays can be viewed under "Tours and Holidays for Singles", "Healthy Holidays and Wellbeing", "How to choose the right tour", and "Holiday Bargains – Value for Money".
0