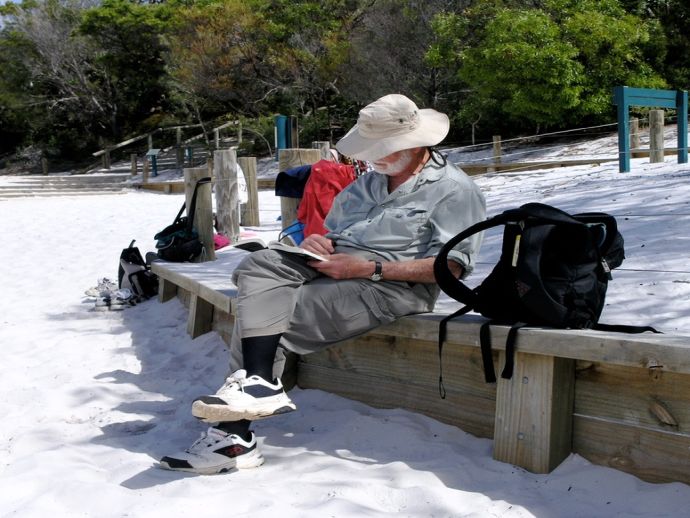 USA tour guest catches a relaxing moment on Fraser Island Lake McKenzie while others swim
Connect with life on our Over 50s Adventure Tours where experiences and empathy are foremost 
Research has shown mature age people are seeking more from their holidays.
– 28.1%  have been categorised as travel livewires
– 21.5% are regarded as explorers
– 45% want accommodation to be included, and
– 25% seek an escape from other tourists and cities
Are you a discerning traveller seeking
– new experiences, new places and local people contact
– an escape from mainstream
– nostalgic and historic features
– immersion in the real Australia
– quality services and facilities presented for an all-inclusive price
– a certified ecotourism tour company
Soft Adventure is the core aspiration behind all our tours. Our guests
– enjoy experiences and contact with nature and people far beyond the reach of mainstream tourism
– are encouraged to explore new levels of personal achievement and awareness
– attain a sense of wellbeing, expression and creativity
– enjoy the creature comforts of home each night
– and new found friendships that last for years to follow
If you are a spirited traveller fired with a passion for Over 50s adventure tours, then maybe a 45 seater tourist coach beating up the highway strip, delivering you to roadhouse and tourist centre queues is not really the solution for you. Come and enjoy the Nature Bound difference
Now you can join a genuine small group of 8 (max) travel companions in a comfortable 4WD vehicle, exploring the outback tracks of Australia with treasured secrets revealed by informed, friendly and caring guides. We place high value on those serendipity moments that make a holiday special.
For a complete review of the Nature Bound experience visit our Over 50s Holidays page.
Here's where you can choose one of our Over 50s adventure tours
You can start by reviewing our Top Destinations and Experiences page and follow the links to a suitable tour.
For world heritage alpine scenery and dramatic seascapes along with memorable walks, consider the Tasmania National Parks Tour.
If you yearn for more remote outback settings and colourful desert scenery dotted with isolated villages, earth loving characters and natural history then our
Adelaide to Alice Springs Classic Outback Tour , are perfect options.
If you would like to discuss any Over 50s adventure tours with us personally, then you are welcome to phone us on (+61)  07 55140873, enquire online or email us today on an obligation free basis.
Other articles in this series on Over 50's Holidays can be viewed under "Tours and Holidays for Singles", "Healthy Holidays and Wellbeing", "How to choose the right tour", and "Holiday Bargains – Value for Money".
Stay Connected.  Subscribe now for informative online insights into nature and news of "off the beaten track" adventure holidays.
0