Private tour guides in Australia, ready to welcome you
A professional team of tour guides, private tour guide and local connections.
The Founders
The Founders and Tour Guides of Nature Bound Australia, John and Roslyn Thompson, have been designing and leading nature based tours of Australia since 1975. They are passionate about their country and the wealth of experiences they have encountered over the years. The friendships and connections with real Australians crafting their lifestyle in the wild. They also provide Private Tour Guide support to clients seeking an exclusive private tour for close friends or family.
John is a keen advocate for humanity reaching solutions in two nature based causes and has studied and corresponded extensively on these issues.
One is the growing concern for nature deficit disorder in individuals, families and communities in a world increasingly imbalanced by lifestyle expectations, consumerism and technology.
It follows, a depleted appreciation of nature and the environment is a key factor in business decisions impacting the planet and the future wellbeing of mankind. This brings natural capital (loss and degradation of natural resources) to the forefront of business strategies.
John and Ros have enjoyed professional diversions into the field of major events and special projects broadening their knowledge base and connection with community.
Some diversions of note included international sport, lung disease and patient support, medical conferences and workshops, property development launches, national industry expositions, indoor rodeo, an Around Australia world record ultra-marathon and other endurance events.
The key to their success comes from a warm empathy with people, lateral thinking and a meticulous approach to operational and tour planning. Enthusiasm and passion for the Australian bush are the final ingredients.
Guiding Philosophy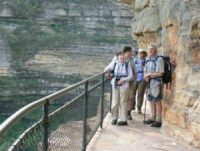 John and Ros design, develop, manage and direct most of the tours on a personal basis, according to a self-imposed travel ethic, believing it important to stand behind the delivery and ethos of the tours with a personalised service. Their commitment includes an extensive investment in reliable vehicles built for remote outback excursions and a network of local professional service providers.
The Team
In the interests of local immersion, contact for guests, support for local enterprise and sustainable tourism, John and Ros consider themselves as the facilitators of experiences with back door connections to an eclectic team of professional guides, hosts and characters drawn from all corners of Australia, all waiting to welcome you: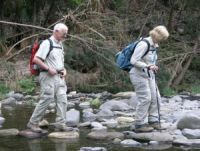 the old "salt of the earth" bushie who knows all about the dingoes and birds in his region.
the self educated Greek migrant who mastered the art and fame of engraving emu eggs.
the fourth generation Irish couple who live an isolated existence on their property in the contorted Flinders Ranges.
the young couple who are etching out a living in holistic farming, re-generating degraded claypan land in the outback.
the master chefs who have stolen away in their utopia B&B settings, one a self educated naturalist regenerating 400 acres of rainforest.
the homely couple who made a remarkable life changing plunge into wine making, who invite us to dine privately at their cellar door.
Our journeys are as much about the local people as the scenery and natural wonders. 
On the road and during walks, we maintain a minimum guide to guest ratio of 1:6 ensuring the total experience is generously shared by all and our services remain personalised.