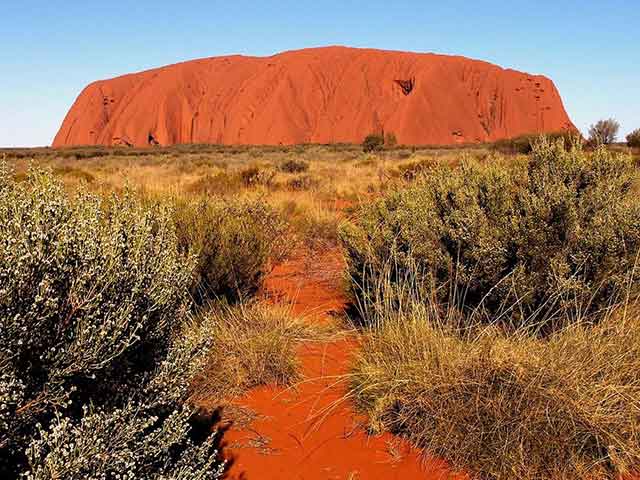 It is near impossible to visit the great Central Australia monolith, Uluru, without being moved by simply being there. Something happens which is deep and spiritual. It can stimulate your desire for a greater understanding of a living Aboriginal culture, located on dedicated Aboriginal country.
So opens an insight into the oldest surviving culture in the world. In fact there were 700 dialects of 250 Aboriginal language groups or cultures which once spread across our great continent, inclusive of land and sea territory.
In Central Australia alone there lies a world heritage story of humanity stretching back 1700 or more generations. Contemplate for a moment – 1700 generations – and the wisdom they might contain.
Where might your Aboriginal Culture enlightenment begin?
Without any intended disrespect, my calling has been to search beyond the shackles of invasion, dispossession, massacre, intolerance, politics and inequality so persistently debated today, to arrive at a positive mindset I believe is rarely reached.
To contemplate how quiet intelligence and the wealth of wisdom gained over 60,000 years might be openly considered and adapted within the context of contemporary living, giving real value to cultural reconciliation.
It seems an open mind will discover values and lessons which might ease we westerners out of the social and environmental degradation we have created for ourselves and even denied in the pursuit of industrial and technological "progress".
So your enlightenment starts with an open mind, a willingness and desire to learn.
Acceptance of culture.
We readily acknowledge a world full of differing cultures and even embrace passionate sub-cultures around sport, adventure, the arts, community values and more. We are born into cultures of place, of country versus city, all feeding a level of belief and even intolerance.
Humanity legitimises a place of prominence for Australia's Indigenous communities and their culture, as unique and worthy as any other culture.
Realisation follows, that Aboriginal culture is not a single culture but a collective of many across all of Australia's landscapes and living environments. Each reflect a desire for survival and sustainability within specific country, familiar catch cries of contemporary western economists.
We hear so much about our multi-cultural nation and how peoples from all corners of the world arrive seeking opportunity in "the lucky country" and "land of opportunity", their unique cultural outlook and experience bringing vitality and growth to our nation.
Many of them simply fly in to a coastal city to pursue their share of the luck, welcomed and assisted by a government which has failed to formalise assimilation programs around a greater homeland culture beyond The Great Divide, where roots and values have been passed down over 1700 generations. Assimilation is confined to a Citizenship Test.
New arrivals have found harbour in pockets of familiar cultural settlement while the homeland Aboriginal culture is laid bare for all to share but largely overlooked.
Conflicts and intolerance within multi-cultural Australia have left open the need for our authentic and historic national roots to be embraced, stretching back far beyond 229 years of colonial settlement.
So where might you belong?
Wisdom is found in the basic belief that Aboriginal Peoples are born one with and belonging to their country, irrespective of where they are living on our continent.
It is connection to country, away from the city huddle, where the deep roots and spirit of Australia can be found, in Indigenous, pioneering and contemporary endeavour.
It is in places like Uluru, a small inland village or within the world's greatest pastoral stations, that far horizons open our minds to expansive thought and a personal sense of belonging to an extraordinary Australian homeland.
Our tours to the Flinders Ranges, Lake Eyre and Red Centre or Central Australia, are rich in connectivity with places and culture important to the soul of the nation.
Aboriginal Culture is nature-based
There have been more than 600 accredited studies undertaken globally around the growing concern for the deficit of nature in the lives of children and families, serious concerns in health, mental and social disorder.
The restorative power of nature is only evident when we extract ourselves momentarily from a virtual world and a technical obsession which is now eroding our freedom of natural spirit and in fact controlling how we think, feel and respond every moment of the day.
Compare this with the challenges faced by the First Peoples stepping onto a foreign land, inhospitable and dangerous in part, requiring a keen observation and understanding of nature for survival. Their foundation for wise engineering, cosmology, sociology, conservation and knowledge sharing.
Over time Aboriginal Cultures and belief systems etched out practices of sustainability and land management – aspects only now being fused with western science and an environmental conscience across savannah lands of Australia's top end – the cause, carbon emissions.
Aboriginal culture was founded on the belief man and nature are created as one, driving care for the environment, land management practices and conservation. On the other hand, westerners are in conflict over the basic narrative that we hold dominion over nature and the belief that technology is the answer to all.
Meanwhile Mother Nature simply doesn't and will never change its rules.
Closely aligned to nature is a 40,000 year old Aboriginal practice involving deep inner listening and awareness. Westerners have adopted soul searching meditation, yoga, boot camps and many other practices to find respite in their lives with little knowledge or regard for the age-old practice of Dadirri.
Nurturing the young
We westerners are quick to voice moral concern for the future to be inherited by our young. Others in denial assume the next generation will have the heart and intelligence to overcome the global challenges and legacy we leave them. Despite the moral cause it remains a "them and us" mindset.
Alternatively, we learn of cultures in which young Aboriginal children grow up within the care and wisdom of their elders, born into an extended family where everyone beyond the biological parents are responsible for the care, nurturing and discipline of the child. Respect for family, the wisdom and role of elders are qualities to behold.
The extended family stretches to the natural world, involving the flora and fauna from which each clan or group is linked to their Totem. Not so strange given westerners choose to be linked to their Gods, heroes, club colours and flags.
Young Aboriginal children acquired wisdom through silence, listening and observation, mostly within nature and nurtured by their elders. By contrast, noise, questioning, objection or rebellion, peer pressure, entitlement, self gratification through "artificial friendships" and social media carry concern for parents and authorities in present day western society.
Enlightenment is free
When you openly reflect on the repository of wisdom and belief within our Aboriginal Cultures you will find hope and possibility do exist. Contemporary values and attitudes could well be enhanced by a timely reflection on and an infusion of Aboriginal culture.
It is easy to retreat to judgements or arguments based on our own western culture but once engaged the enlightenment can be deep and life enriching. When we look for some good through humanity then there is a greater prospect of understanding and benefit for all.
Certainly, we should be collectively mindful of the negative influences one culture might be having over another, reverting to dismissive judgement rather than embracing the possibilities of sharing.
From Uluru to massacre sites, trade routes to songlines, story telling rock-art to direct contact with communities, our tours across Australia can be a door opener to moments of inclusive enlightenment.
On public record:
"As European settlers arrived on the New England Tablelands from the 1830's, disputes arose with Aboriginal people about land dispossession and killing of wildlife and domestic stock. With few police on the tableland frontier, some settlers took the law into their own hands. It is said that settlers on horseback chased local Aboriginal people to the bluff opposite here, driving them off the cliff"
Aboriginal Country
,
Aboriginal Culture
,
Aboriginal Peoples
,
Central Australia
,
Dadirri
,
extended family
,
land management
,
mother nature
,
role of elders
,
sustainability
,
the lucky country
,
Uluru
0