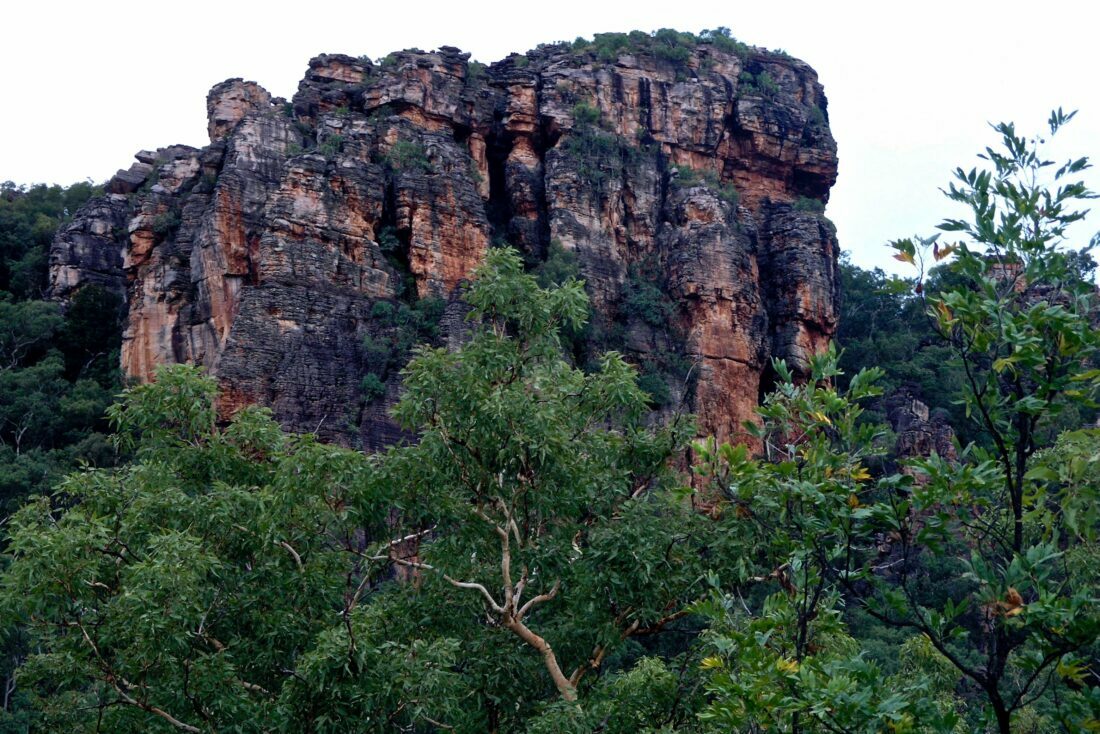 Top End Kakadu Escarpment, home to an abundance of Rock Art
What do we really know about the Indigenous culture of our nation?
Reconciliation between our First Australians and the more recent western arrivals is still the subject of contentious political debate despite the popular acclaim Australia is the most successful multi-cultural nation in the world.
Leaving the politics around conflict issues aside I, as an Australian born westerner, aspire to the view that reconciliation depends directly on respect and pride, which in turn depends on awareness and knowledge.
It is common for our outback tour guests to find new awareness and respect for the Indigenous culture and First Peoples of our nation during an experiential holiday, given the original Australians have survived more than 40,000 years or 2000 generations, to be of world heritage significance.
In this article, I seek to stimulate a deeper consideration of the oldest surviving living culture on earth. I do not seek to inflict personal prejudices on the reader, or to claim to be a spokesperson or authority on Indigenous culture, or for you to necessarily agree. But do read on.
Time to open the mind-gates for a deeper consideration of our historic cultural values.
I believe, there is an apparent great divide between the historic wisdom within Australia's Indigenous culture and new age lifestyle values today.
Consider these 18 thought starters in 

context of 

the First Australian Way compared to the Western Way
Wisdom at hand
More than 40,000 years of accumulated knowledge acquired through direct experience and survival, connection to country, covering all species and environments
Or
230 years of European interpretation, intervention and disregard for Indigenous wisdom.
Lore or Law
Life guided by a deeply embedded acceptance and practice of cultural lore
Or
Life determined and controlled by the applied Westminster Law.
Sustainability
Long term survival resulting directly from grounded community practices and disciplines
Or
Economics and "growth" as the yardstick of success, now the subject of constant concern and debate over environmental and resource sustainability
Life's abundance
Life based on an abundance of resources leaving time for cultural enhancement and "right of passage" rituals
Or
Stress over the demands of a growing population and security of an individual's future
Consumption
Life set around minimalist needs-based consumption, sharing and "leaving surplus for others"
Or
Life built around excesses, strategic obsolescence, "stuffocation", status, self-gratification and greed.
Ecological footprint
Low impact, locally based, self-sustaining ecological footprint on the earth
Or
Excessive and growing demands on resources resulting in their inability to regenerate readily, causing stress on supply chains and magnifying the ecological footprint, with limited mainstream  concern.
Elders
Revered elders at the heart of their community and cultural longevity, having a guiding role in the "rights of passage" of others, respect and disciplines within community. The primary conveyor of wisdom
Or
Seniors disconnected or vulnerable to disregard, neglect, exploitation, mental and physical abuse.
Grounded Roots
Despite enforced separation, the impacts of western, institutional and multi-cultural influences, generations of individuals remain connected and committed spiritually to their country and family. Historically, possessing genuine Australian roots.
Or
A multi-cultural country in which people of other nations are culturally distant or disconnected from their place of birth, their roots. Leading to broader integration and assimilation challenges, conflict of values and sectarian divides. Confusion and shifting the definition of "An Australian".
Connection to land
Through generational knowledge sharing of seasons, species, habitats, an ability to live on and manage the land, in harmony with nature
Or
To live off the land, driven by economics and profit, rights and defence of title, chemical intervention and assumed dominion over nature
Sacred elements
Life determined by the cultural connection to sacred "mother earth" which provides essential air, water, food and energy. Elements insightfully managed by family groups, protected and cared for as vitally sacred
Or
Degradation and desertification of lands globally, large scale industrial agriculture at play, diminishing family ownership, sacred resources seen as freely available for exploitation, as detached "externalities". Degradation of "mother earth", her sacred elements, now the subject of ecological debate and crisis management.
Conservation
Experience based conservation and environmentalism driven by harmony with mother nature
Or
Economic exploitation and growth now in sharp conflict with reactionary protectionism, community outcry and short term political vision.
Custodianship
Custodianship over all land and creatures equally through cultural lore and practiced across all Indigenous nations or language groups
Or
Superimposed titles and borders across nations, states and lands, with contested rights and entitlements. Conflicts of care and responsibility, despite mother nature having no regard for title or borders.
Naturalists
A grounded life attuned to nature's way and the bush. Protection and equality of all species, as equals
Or
Increasing Nature Deficit Disorder within the modern Nuclear Family leaving elders, parents and children with serious health and social challenges. Disconnection magnified by the advent of technology, pursuit of virtual reality and artificial intelligence. Diminishing mainstream concern for increasing numbers of endangered / extinct species.
Food and diet
A life nourished by local food production, seasonal variation, protein and natural plant nutrients. All peoples engaged in gathering, farming and preparation, plus the ritual of consumption. Reliance on care for the resource and place. Leading to an active lifestyle
Or
Food conveniently found on the shelf, bringing disconnection from the source, risks in provision and standards. Diminished awareness of food origins amongst the young. Health issues around sedentary consumption, artificial ingredients and fake nutrition.
Harmony and Calm
Life centred around and guided by a deep listening (Dadirri) to the within, quiet personal awareness with specific understanding of nature and the wonder of creation
Or
Life driven by goal setting, ambition, expectations, tensions, comparative envy and aggression, leading to time poor commitments and stress. Offset by remedial therapies and medical interventions. Marketing noise and distraction at every turn and reaction from restless youth.
Spirituality
Life embracing a strong spiritual belief and ancestral connection
Or
Growing spiritual intolerance or disbelief leading to alternative belief systems, disharmony and conflict. Failing spiritual institutions and leaders.
Climate
Survivors of natural and extreme climate change over tens of thousands of years, based on grounded intelligence and adaptability
Or
Increasing conviction that mankind is speeding the impact of climate change with politicians, economic advocates and enterprises resisting intelligent adaption to change.
Intelligence
First in producing sign language, aeronautics, wind instruments, astronomy, trade routes, natural medicine, agriculture and land management, land and water harvesting, construction and engineering. Sophisticated communities and practices rather than the perception of primitive hunter/gatherers
Or
Perceived higher intelligence engrossed in and depending on technological advancement. Frailty in assumed superiority. Vulnerable to adverse natural events, the unknown, cyber disruption, shifts in social licence and wilful disregard.
You are invited to add your thoughts relating to the role of Indigenous wisdom in a progressive and reconciled nation.
To read more visit our article on Aboriginal Culture and a timeless wisdom being a pathway to enlightenment.
Stay connected.  Subscribe now for informative online insights into nature and news of "off the beaten track" adventure holidays.
2