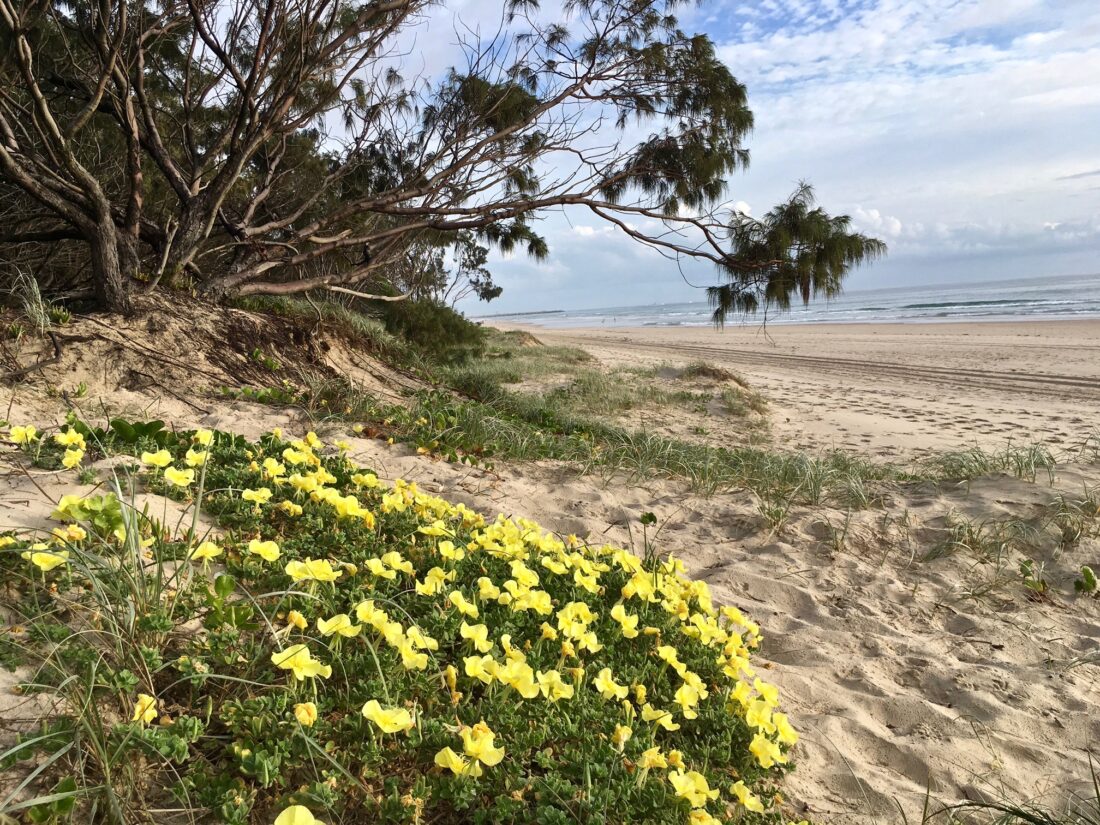 Senses run free by the beach, sand underfoot, visual highlights, waves arriving onshore, breezes and birds singing through the She-oaks
Mindfulness in nature is a great tool for unpacking the chaos in your life.
Our deepest origins are in the natural world – fact is, we are all part of nature.
We choose to be so busy and impatient with our lives we accept the complications, noise and distractions invading our space as normal, often justified by denial. Yet we envy people who seem to exist in a lasting state of calm.
For many of us, we have lost the art of opening up our senses and connecting openly with our primal being through the practice of mindfulness.
Celebrity writer, presenter and activist Stephen Fry recently warned "a technological tsunami threatens to engulf us and redefine us without our consent……it's dangerous realities that should concern us".
The pursuit of mindfulness in nature is all about tuning in without making a judgement over what you are doing or experiencing. It's about being openly aware of your presence in the moment.
It is not some strange fad or cult driven practice, not an orchestrated or contrived therapy but a free and easy natural return to the true source around you, which has been at the core of Indigenous wellbeing and survival for centuries in the form of Dadirri, or inner listening.
It involves the simple act of immersing yourself in a place of serenity, clarity and creative wonder, then through breathing, observation, listening, awareness and appreciation realising intangible benefits ring more importantly than the tangible assets, thought to be making us happy.
As I often say, the goal in Nature Bound Tours is to guide our guests comfortably and safely into exceptional places and moments, then allowing the restorative powers of nature to do the rest.
So why is mindfulness worth a try?
Firstly, it is important to acknowledge some of the common symptoms.
Too busy and time poor, cracking hardy or intent on denial?
Hyperactive and uncomfortable about stillness?
Impatient with the day ahead and the people or barriers in the way?
Anxious, stressed, worried and moody?
Taking your smart phone to bed and/or wiring yourself for the morning exercise?
Too proud or self-conscious to be seen or advocating a "chilling out" in nature?
Life's considered far too complicated to be wasting time on "inner listening"?
Follow your path to mindfulness and ride a wave of energy   throughout the day.
Start by choosing a quiet sitting spot in nature, preferably free of human distraction. Desirably in the golden hour following dawn and near an expanse of water, the edge of a forest or woodland. Sit comfortably erect and relaxed.
Focus on your breathing, exhaling the CO2, inhaling the O2, gifted by the vital presence of trees.
Expect your busy mind to take you wandering but slowly retrieve it, back to your breathing.
Next practice the art of "noticing"
The variety of bird calls, near and far, perhaps the range and reason for each call.
Feel the sun's rays or the freshening breeze on face or skin
The smell of the bush or blooms, especially enhanced by recent rain or morning dew.
The shape, colour and texture of the bush, bark, twigs or leaves hanging on to life.
Awaiting for a moment in quiet when something always happens
The arrival of a bird or animal living totally in the now, curious or accepting of your company
The lone flower blooming just for the day, content in its role and contribution to the wild
The water course or landscape with all its features making up the whole
The changing canvas above as clouds of varying personality float overhead
Enjoy your connection to the creative wonders of nature a calming distraction from the hustle and bustle you have retreated from, desirably a daily respite.
This has been an actual account of this very morning – in fact a 20 minutes interlude enjoyed every day during a regular morning walk.
Every day of every Nature Bound tour presents mindfulness opportunities for guests to personally enjoy.
Whether the setting is deep in the ancient Gondwana Forests, on a remote sand dune in the desert or a precipitous cape overlooking the great southern ocean, the immersion experiences are life enriching indeed.
0