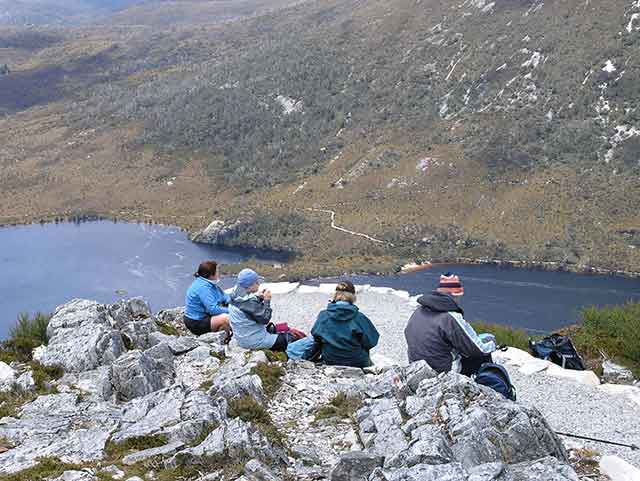 Group enjoys a morning tea break on Marions Lookout Cradle Mountain Nature Bound Australia's Tasmania National Parks Tour
Adventure Travel will keep the 'oldies' going
Break out of the paddock you have created for yourself, the hesitations you have manufactured, for even an ageing horse "long in the tooth" likes to kick up its heels occasionally and so can you.
Let's be honest if you haven't made much of an impression on your bucket list of holiday ideas, now is the time to kick-start with some adventure travel. We'll give you a hand.
Here's 12 helpful suggestions.
1. Why sit around waiting for the sun to set on your life given it keeps on rising?
Seriously, why waste precious moments comfortably inactive, stuck in a day to day, everyday routine, fulfilling fabricated expectations on how retirees should play out their latter years.
Surprise yourself by embracing an adventure travel challenge outside the square, in the outback, where your everyday friends and family are little likely to recognise you. Separation will make their heart grow fonder.
2. Get the body going again – tune up for adventure travel
Determine to make a youthful recovery, invigorating the energy levels, walking the slumbering joints back into action, embracing nature's free therapy, finding rhythm in the sounds of bush boots and walking poles guiding you along a meandering bush trail.
Where fresh air and exercise come naturally.
3. Experience everything new, perhaps in a different light
So there is history and legend out there you have long wondered about. The prospect of being immersed in discovery and endeavour long past. Are you drowning in information but lacking in real knowledge about Australia, its world heritage and living culture?
Discover the complexity and beauty of nature, your relationship and connection to a broader world, a humbling  but reassuring experience.
4. Discover how the other half live
Enjoy the moment of being a local in small towns built for just a few, where country spirit and friendship are profound.
Where characters, achievers, dynasties all congregate at the one watering hole to share enterprise, care, resilience, yarns true or acceptably untrue.
5. Turn off the bad news and overwhelming distraction
Tune out and rediscover your soul, free of overwhelming negativity, horror commentary, advertising clutter, politics intruding on everyday life.
There's high worth in moments of solitude and "chilling out"
6. Reclaim your bragging rights
Let's face it, people love to talk about themselves and yes, particularly about themselves.
Arm yourself with experiential ammunition, to rock the next dinner conversation back home.
Perceptions of the outback might leave others daunted but you are living evidence of a captivating adventure and personal victory over insurmountable odds (?) – come on start bragging!
7. Share your Elder Wisdom
Cultures from way back are testimony to the role of Elders in imparting knowledge and wisdom in following generations. Here is your opportunity to graduate into the higher realm of an Elder.
Gather your experiences, the history and story lines which abound from an outback Australia journey. Enrich the lives of your children, parents caught in a consuming world, or your grand-children who need to know where they belong in the world, their Australia, their place.
8. Cheat a little by opting for comfort and style
Take the back tracks through a rich tapestry of bush too rugged for most. Fulfil others perceptions of rugged adventure travel. There is no legal requirement that you should admit to journeying in a comfortable 4WD vehicle, with someone else driving and the security of planning, experience and companionship at your disposal.
Treat yourself to home comforts in the wild, accommodation, meals and treats, all provided by welcoming locals who depend on your patronage and investment. The ultimate win-win journey.
9. Fall passionately in love again
No our tour prices or expertise don't cover a mobile dating service. However, your emotions may flow to wonderful scenery, texture, colour, and detail not at first part of your expectations.
In the outback the sunsets flow into amazing galaxies illuminating the night sky only to arrive at another embracing sunrise. Its not just what you see but how all the senses join you for the viewing.
Chances are you will fall madly in love with nature.
10. Nurture the brain
Its a fact of life brain plasticity falls into line with our everyday conditioning. So give it a shock and stretch the dimensions.
Apply some outback intervention through wondrous space, thoughts running free, nurturing creativity, soaking up inspiration, arousing a new interest in stories, verse, art, memoirs, or any place you want to stretch the intellect.
Chances are you will never stretch it beyond the far horizon. Its that sort of place.
11. Transform your personal brand
Shock everyone, don some new bush gear, all practical for adventure travel. Mascaraed like a local, wear it to dinner for cocktail attire will be simply out of place.
Chances are family and friends won't believe their eyes but so what, you are uniquely you, living in the moment.
12. Treat yourself to joy and laughter
Now you are free from the shackles of everyday life, you can lighten up and not be so serious about the journey unfolding – the essence of experiential adventure travel.
The bush humour will unravel with occasional road signs, letter boxes, toilet stops, galahs at play on the high wires, characters trudging along a bush road bent on a personal mission, an abundance of tall tales and even wildlife caught in their moment of matrimonial bliss – but that's another Nature Bound true story censored at this stage.
So now's your decision time. Are you ready?  Are you a spirited Over 50's Traveller?
Don't dare wither between a rock and a hard place – kick up your heels and get out there!  Choose your preferred Destination or Experience.
Let Nature Bound show you the way.
0