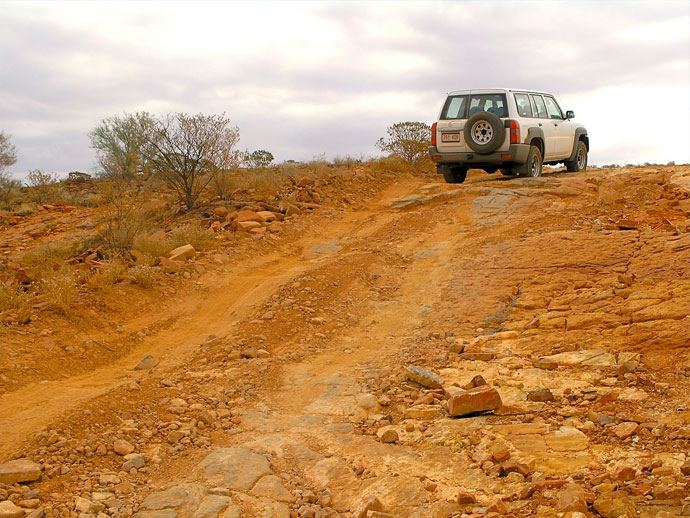 This road less travelled leads to the iconic desert feature of Chambers Pillar and other enduring sandstone features
In contrast to mainstream tours, we take a road less travelled in "adventure travel for the heart". An excerpt from Australia's leading financial publication.
By Deidrie Macken for FINANCIAL REVIEW
There's a new kind of tourism boom that's not so much luxury as post-luxury.
It's adventure travel for the heart – and the souvenirs are enduring.
The adventure travel experience is not confined to the third world. The journey can be literally, and figuratively, internal.
Former event organiser John Thompson has brought the movement home through his Nature-Bound Australia group. "The real adventure lies in the intellectual, cultural and spiritual fulfilments awaiting you in the richly diverse landscapes and habitats Australia offers. We choose to visit, not invade, while practicing a responsible and sustainable travel ethic."
Based in Brisbane, Thompson's tours explore the road less travelled in outback Australia, largely with visitors from the UK, US and Europe. We call ourselves eco-tours, but we are also conscious of supporting local businesses – so it is more than eco-tourism.
We have to sustain those people who are trying to survive in remote areas, so we stay in small hotels, get locals to take us birding, go out for dinner with locals and go to their small wineries.
Thompson has expanded the experience to include "real" Australian characters in their own habitats. "Australia is a wonderful place to run into these sorts of characters. None of it is orchestrated. They are remembered by the travellers as "the people we met".
"One business man said we should offer trips to people at midlife so they can get out into the wilderness, sit on a rock and figure things out." But we don't conduct any therapy, it's a case of taking people safely and comfortably into a pristine environment and letting the environment do the rest." (ends)
Select from our range of small group guided walking and scenic tours throughout Australia and experience the Nature Bound difference.
If you would like to discuss any aspects of our tours over the road less travelled in Australia, then enquire online, email direct or telephone us on (+61) o7 55140873  Your enquiry is welcomed.
0