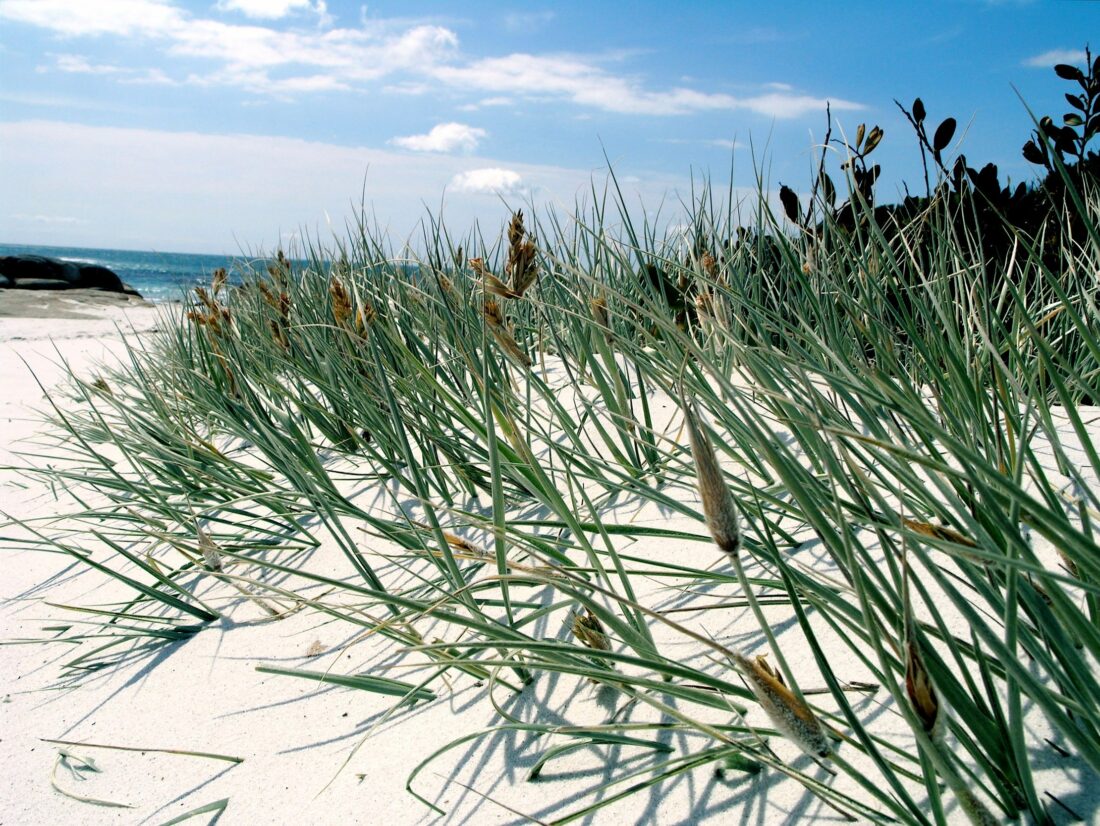 Dunes of Tasmania, home to the great Shearwater bird migration
Share this real life connection to nature, a global-reaching bird migration experience on our Tasmania National Parks Tour.
If ever there is a moment on our Tasmania National Parks tour, when guests can claim a deep sense of connection to nature, it is at dusk on the wind swept ocean beach of the wild Tasmania west coast.
Here the Roaring Forties winds arrive from 20,000 kms of unobstructed ocean exposure, generating huge waves and swells reaching to 23 metres and delivering some of the purest air in the world.
On this lonely 32 kms stretch of beach from September to April annually an extraordinary event takes place.
The unveiling of Nature's way, an experience leaving our guests in absolute awe.
An amazing arrival
We gather at dusk and wait for a flight of birds, 3000 breeding pairs that mate for life, returning to their burrowed rookery on the isolated dunes where we stand.
These flight-enduring residents of the oceans, are but a small sample of 23 million frequenting our southern islands at this time of year, creatures relevantly unknown to most Australians. As night falls they crash land and stumble their way on webbed feet over dune and vegetation to their family burrow.
With raucous excitement they start refurbishing or house keeping their home as showers of sand burst from the burrows.
Readying for the family way
By day they float on the ocean feeding on krill, squid and fish building up their reserves of fat, oil and energy, sufficient for the female, approximately the size of a common pigeon, to undertake a seemingly impossible mission, producing an egg the size of a 500 gram margarine container.
With this achieved, the couple take it in turns to incubate their prized possession in 2 weekly shifts, one feeding at sea gathering the oils and energy to sustain the other and eventually to nurture their expected young. With such sustenance the young one is destined to thrive, ultimately growing to twice its parent's body weight.
In time, gradually the parents reduce their offerings to the baby and almost to the day, in an early April dawn, they gather in mass on the crest of the dunes and in instinctive precision take flight leaving their young ones alone in their burrows.
An epic bird migration
So begins an epic parental flight, shearing low across the crest of rolling waves, a low lane crossing of the Pacific Ocean to the northern summer krill feeding grounds near the Aleutian Islands and Bering Strait.
A remarkable 15,000km flight, undertaken without any land fall in just six weeks.
Spare your thought for the abandoned young, unfed but living on reserves of fat while shedding half their body weight. They leave their burrows under the safety of darkness to exercise, rid their downy coats and grow their flight feathers.
Three weeks almost to the day after their parent's departure, they too gather in mass on the crest of the dune, brave themselves and with a leap of faith take their first-ever flight.
So where do they go?  Yes, in the path of their parents 15,000 kms to the Bering Strait.
They are secured by an innate capacity to navigate their way over the vast and treacherous seas, despite storms, winds and exhaustion. Sadly some never make it.
Returning home
Come September each year the parents, in mass, bid farewell to the Bering Strait. Appearing like a great brown sea-raft drifting across the ocean horizon they make their way down the Central Pacific returning to the same dune rookery to locate and refurbish the family burrow vacated months earlier.
So ends nature's bird migration cycle and another begins, one of the greatest and most spectacular in the animal world.
Instinctively the young embark on their return flight too, only to extend their journey further south into the wild southern oceans. In their fifth year they gather their mate and return to the very rookery and burrows of their birth, mature and destined to breed.
Enjoy an enduring Shearwater experience
Their ability to shear with stiff wings over the tips of the ocean waves with minimal active flight has led to these creatures being called "Shearwaters".
While their story is heart-warming, it is another dimension to meet the Shearwaters in real life, as they emerge in the dusk, crash land and stumble across the isolated dune beneath your feet.
So what can our guests learn from this live Nature Bound experience?
Dedicated naturalists often remind us of life enriching lessons, mirrored in nature
Parents mating and dedicated for life, following the path of generational wisdom and practices
Flights of endeavour throughout life involve risk, determination, endurance and hope
Home should be seen as a place of security to return to, a connection to place or country
Life presents pathways for the like-minded to follow, to find safety and purpose in numbers
We are all born with innate qualities and abilities that guide us toward unknown horizons in life
An enduring commitment is not without reward
If you would like to know more about this and other life enriching nature moments on our November to April scheduled  tours enquire today.
Read more in our series of Tasmania Articles
Be Inspired by Australia's Natural History
0