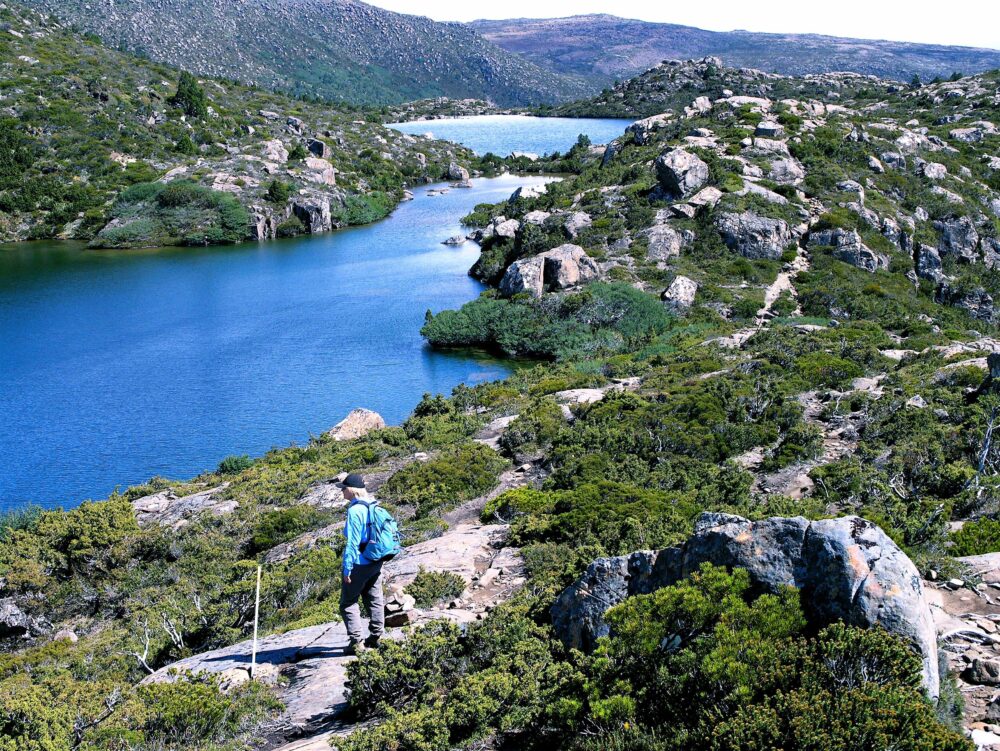 Mt Field National Park's Tarn Shelf a glowing exhibit of Australian Natural History
Enjoy an insight into the intrigue and immersive experiences in Australian natural history a single day on a Tasmanian National Parks Tour can deliver.
Discover the Australian natural history story which underpins just one park's declaration as one of the highest rating world heritage national parks on the planet.
Enjoy a deeper discovery process founded in observation, awareness and wonder. The relationships existing between geology, vegetation, wildlife, history and mankind's connection to Tasmania's oldest National Park. The park receives approximately 155,000 people each year, most of whom see only a few big trees and a beautiful waterfall before rushing back to the nearby city of Hobart.
In the beginning – geology
Arriving at the park, first impressions are of a landscape ranging from lush forested lowlands to seemingly bare boulder strewn alpine peaks and moorlands in elevated terrain. Aptly described by experts as "a degustation of the best that Tasmanian wilderness has to offer".
You'll learn of the deep base rock strata, mudstone which was laid down 220 million years ago (MYA). Then as Australia split from its connection to Antarctica, dynamic volcanic intrusion from the earth's heart brought massive columns of dolerite rock toward the surface, later to break-up under severe faulting, around 165 MYA.
Then arrived a period of dramatic glacial scouring, carving out boulder fields, cirques and depositing accumulated moraines which dammed the collection of mountain lakes and picturesque tarns seen today. Around you the whole landscape has been sculptured within the last 20,000 years during the most recent ice-age.
Hidden deep below is a complex limestone Karst or cave system of high geo-conservation value, set down 400MYA and covering 18,500ha with 500 documented entrances for experienced cavers to explore. The deepest cave is 375m. Intriguingly, the tallest waterfall in Tasmania at 170m is hidden deep below. Snow-melt waters from where you stand drain through the Karst system to emerge, pure as pure, from springs and caves in the valleys 40 kms away.
From the rocks and soils, vegetation emerged
While the number of flora species in such landscapes normally decrease as elevation increases, in this park you discover the phenomenon is reversed.
Wet sclerophyll forests, stately swamp gums and stringy bark communities graduate to sub-alpine woodlands, then alpine communities of heath, herb fields and bogs. A show of pink, orange, scarlet and burgundy wildflowers bloom while colourful mountain berries abound.
The tallest flowering hardwood trees in the world reach skyward for 80 metres and are a few hundred years old. Ancient pencil pines line the lakes and in autumn the hillsides are ablaze with colour from the scalloped leaves of the low growing Fagus, its ground hugging branches branded as 'tanglefoot" by wary bushwalkers.
One of the few native deciduous trees in Australia, the Fagus exists as evidence of the super continent Gondwana when Australia was connected to Antarctica, South America, and New Zealand and Nothofagus was common.
A duckboard pathway takes you through some of the tallest heath plants in the world which grow until they collapse under their own weight, the strange Pandani. Lichen patches decorate the millions of boulders the trail navigates. Twisted and decorated snow gums wrapped around the boulders bring new meaning to the term "a rocky marriage". Carpets of delicate cushion plants protect themselves from the severe winds, snow and ice delivered each winter. Species of ancient conifers have a family history dating back to the time of dinosaurs and are endemic to Tasmania. Specimens lining the lakes are 1000 years old. All told, 70% of the alpine plants in Tasmania are endemic.
Habitats and ecosystems evolved
Take a quiet moment to observe and living fossils may be sighted in tarns, lakes and creeks, from the timid platypus to the Mountain Shrimp of 200MYA.
Nearby in the Florentine Valley in 1933 the last Tasmanian Tiger seen alive was trapped and committed to life in the Hobart Zoo. Its legend has captivated a nation.
Most of the Tasmanian mammal species occur in the park along with a broad range of birds taking advantage of the altitudes and habitats , where east and west ranging plant species meet.
Mankind's discovery and connection
Here is a park for all seasons. Nature connected folk visit for the mass showing of Fagus in autumn, adventure on the snow fields and frozen tarns of winter, the heaths blooming in spring leading to a proliferation of wildflowers in summer.
Prominent and active conservationists are enshrined in the names of lakes, tarns, mountains and ranges. The Florentine Valley is said to have been occupied by our First Peoples over 30,000 years ago. From the 1830's trappers, snarers, bushrangers and convicts, all part of the ecosystem, roamed the country, living off the flora and fauna.
Today, the recorded history points to early pack-horse access, rustic ski huts and downhill runs, tuxedo and glamour skating on frozen tarns in the wilderness, all in response to the call of the wild.
Are you ready for an immersive walk into Australian natural history?
Such a stunning story of Australian natural history and enlightenment is apparent in this one park, a compelling reason for its inclusion in our Tasmania National Parks Tour.
Welcome to the Mt Field National Park.
Our full day walk along the ice shattered boulder field of Tarn Shelf, taking in all of the above experiences, followed by a visit to arguably Australia's prettiest waterfall never fails to excite our guests.
Your final discovery might be of self, realising an appreciation of Australian natural history does not require you to have a science degree or other expertise, just an enquiring mind, a desire to walk and embrace the experience.
Ironically, a visit to Mt Field may ignite your desire to be a citizen scientist someday, driven by the calling to connect with nature and learn more of the National Park nearest your home.
We look forward to the possibility of you joining one of our Tasmania National Parks Tours scheduled in November to February annually. Visit our tour page or enquire further for details.
Read more in our series of Tasmania articles
0