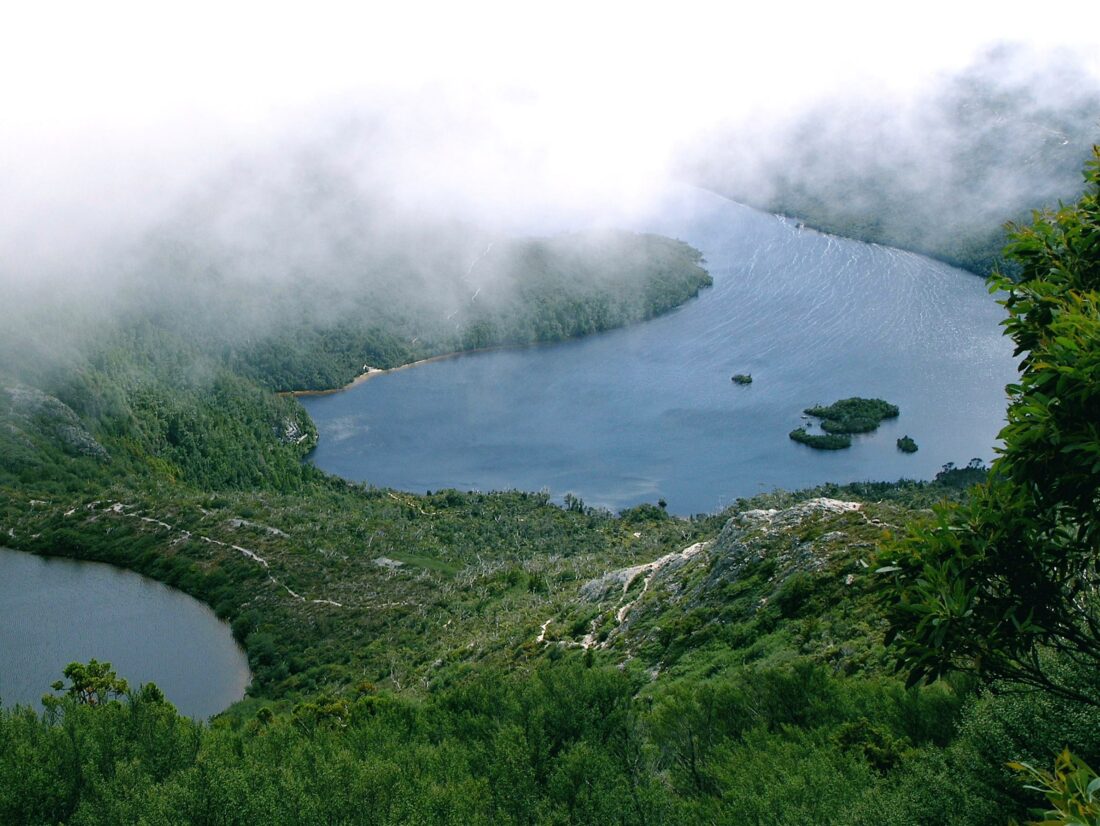 Dove Lake under cloud at Cradle Mountain - Lake St Clair National Park
Share this real life nature moment, a connection to nature experienced on our Tasmania National Parks Tour.
Being creatures of habit, how many of us enjoy everyday in relative comfort, living, driving and working in our air-conditioned bubble, an artificial world determined by preferred, if not, misguided narratives?
So what happens when we choose to break loose in the wild, to connect with nature, discovering that nature owns us so deeply we are moved to own that nature moment ourselves – for life? On reflection we all hold such moments deep in our hearts, most likely from childhood, but they are rarely consciously valued.
Do you need a nature based holiday?
When we venture to holiday most of us seek out the usual creature comforts at every turn.
We are easily guided to follow the crowd to that iconic destination our friends or family have enjoyed, or we have discovered shouting loud from a tourist brochure.
One such destination is Cradle Mountain – Lake St Clair National Park, a world heritage jewel in the Tasmania Tourism offering. All the creature comforts are available in the form of snug lodgings, historic restaurants, cosy bars, pampering spas and well formed National Park trails to explore.
What is not generally known is Cradle Mountain, despite its awesome scenery and economic drawing power, is also a magnet for inclement weather with an average of 234 days of each year subject to rain or snow.
Embrace nature's offering
As tour operators, admitting to our own share of creature comforts, we are well prepared for whatever nature moment "Cradle" might unexpectedly offer and how we might respond. More importantly we enjoy seeing our guests graduate from their everyday comfort zone to their experiential zone, inspired by the presence of "Cradle" itself.
Delight in the adventure
One such squalling windy day, bordering on foul, some of our eager guests, the type seeking more from Cradle Mountain than a distant view from the car park, insisted we go for a walk, despite the bad weather, four layers of clothing to lug around and damp under foot.
Not to disappoint, we headed along the trail tracing the shore line of iconic Dove Lake, ironically with the usual towering dolerite spires of "Cradle" hidden high in swirling cloud.
Arriving at a pivotal junction (ahead and flat or left and uphill) the collective spirits of the group urged that we climb into the cloud to the top of Hanson's Peak, trusting the excitement of a long lost view might emerge above the cloud or being closer to the heavens, some miracle might occur.
And it did.
When the nature moment arrives
Suddenly, while paused and celebrating the climb, still engulfed in cloud, a gust of wind intruded, sufficient to toss one of the more delicate members of the group off her feet into the twisted carcass of some perpetually windswept heath.
Like the curtain of a concert stage, the cloud enshrining the "Cradle" spires opened up to reveal the shimmering waters of Dove Lake hundreds of metres below and the vivid arrival of a rainbow arching intimately from one end of the lake to the other.
It was as though the lake itself had been blessed and nature's moment was surely ours to witness exclusively, given every other soul was huddled around the open fire, warming themselves in the Cradle Mountain Lodge.
In a sublime moment mother nature had captured us, including our delicate guest emerging with a damp rear-end from the heath.
So blessed were we by this experience it became a moment in time each of us would own for life and in this very story we still do.
So what can we all share from this experience?
It pays to step outside of our lifestyle bubble and shed the comfort restraints we set ourselves – to walk in and experience the rain, to feel the breeze, cherish the chill, savour the bush aroma and re-tune to the sounds. Remember all the senses give life to the story.
To embrace the adventure in every moment, in anticipation of a reward – uniquely ours
To find wellness inside, simply step outside
And in the case of one squalling Cradle Mountain afternoon, to add value to that warm hot chocolate enjoyed later by the open fire; not to overlook the passion to share this nature moment with anyone generous enough to listen, saddened of course by not having been in the moment themselves.
If you too own a moment in nature because it owns you, then we'd love to hear from you.
Read more in our series of Tasmania Articles
Be Inspired by Australia's Natural History
0