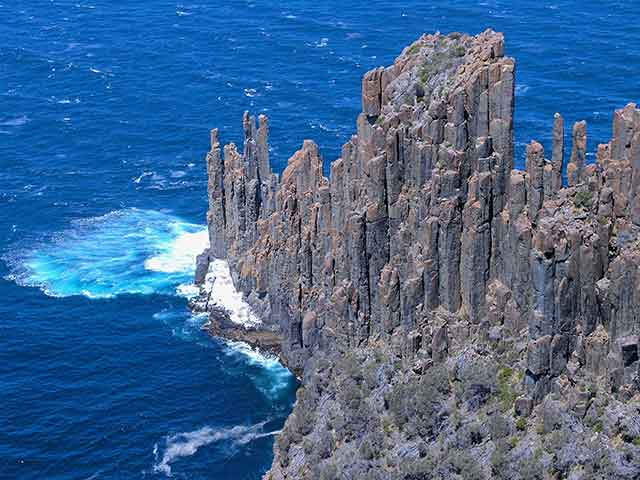 The spectacular columnar dolerite cliffs of Cape Raoul in Tasman National Park
From land, sea or an emotional perspective the natural history of the Tasman National Park on the east coast of Tasmania leaves a stunning impression on even the most reluctant soul.
Here is a world of soaring sea cliffs rising defiantly out of a surging ocean, home to endangered forests of giant kelp and crowded colonies of marine animal and bird species. Delicate coastal heaths line hiker trails leading to breathtaking views of giant sea stacks and monumental rock formations protecting a world of natural diversity.
Tasman National Park – the feet first experience
Exploring on foot provides a riveting first impression.
Imagine that half-day walk you wish could last forever. Where the superlatives fail to capture the occasion and your mind struggles vainly to record every detail for posterity. Where you are reluctant to turn your back on the moment and return to "normality".
Somehow the memory of nature's tessellated paving in the tidal zone, the blow holes, arches and littoral chasms discovered the day before are just a prelude of things to come.
Choosing a cape walk is no easy task for there are a number, all featuring a delightful bush walk through open woodland and windswept heath filled with bird choruses from Fairy Wrens, Robins and Honeyeaters.
Suddenly you are centre stage to a spectacular arrival of grand ocean vistas from the top of towering columnar dolerite cliffs defying countless centuries of pounding waves.
You have arrived atop some of the highest sea cliffs in the world ranging beyond 300 metres, an awesome "my lifetime" event. From here you are perched literally above the soaring flights of Terns, Gannets and Sea Eagles cruising for prey below.
The elated souls who have preceded your visit have left their descriptive legacy along the seascape to tantalise your imagination, branding imposing sea stacks as the Candlestick, Totem Pole, the Lanterns, The Thumbs, Cape Pillars and Needles.
Having walked a great walk what more could you possibly expect ?
Rarely are we lucky enough to enjoy natural history from a multiple of visual perspectives.
The fortunate may take a light aircraft flight over a spell-binding lake or gorge but in the Tasman National Park, having walked the walk, you can join a partnering local operator for a 3 hour wilderness sea-adventure of no equal.
Jump on a custom built power boat, don the spray jacket, cameras at the ready, for an intimate encounter beneath the sheer dolerite columns towering above, edging up to haul-out platforms, the breeding and resting retreats of Australian Fur Seals, then nosing the bow into deep sea caves rich in colour from marine organisms washing ashore.
Hidden below are endangered forests of giant kelp the fastest growing organisms on earth with trails as long as 30 metres and growing at the rate of 50cms per day. Their survival is at the whim of climate change determining the intrusion of nutrient poor warm currents taking over from the nutrient rich and cooler influence of the great southern ocean
Here is a world of weedy sea dragons and pot-bellied seahorses witnessed only by the keenest and most experienced of divers but the kelp fields lapping and prancing on the shore are a reminder to us all, we are drifting over another wondrous world and what is our response to climate change.
The sea adventure continues passing mass gatherings of toilet-neglecting cormorants on their splattered bluffs, to the candlestick and totem pole and other sentinels which have tested the skills and determination of a handful of rock climbers in search of the extreme. Still you will reason why!
Aided by skilful navigation you'll whisk your way between the imposing stacks and through arches, to be greeted by pods of dolphins and wandering albatross the long haul jumbo jets of the sea resting peacefully on the rolling swell. Then its a skirting visit to iconic Tasman Island with its historic lighthouse and rounding-point for the legendary Sydney to Hobart Ocean Yacht Race.
Seasonal play with migrating whales, a timely witness to the feeding frenzy of diving gannets or the passing raft of tens of thousands of shearwaters on their annual migration, will wrap up the wilderness experience.
Experience is the emotional reward for being there – there is no greater truth
The Tasman National Park visit offering two and a half days of absolute connection with nature is undoubtably one life enriching highlight of our Tasmania National Parks Tour. We schedule our tours for the pleasant November to March summer period and encourage all our guests to "bone-up" on their photography skills for the moments are frequent, plentiful and passing .
Read more in our series of Tasmania Articles:
Be Inspired by Australia's Natural History
When a Nature Moment owns you.
0