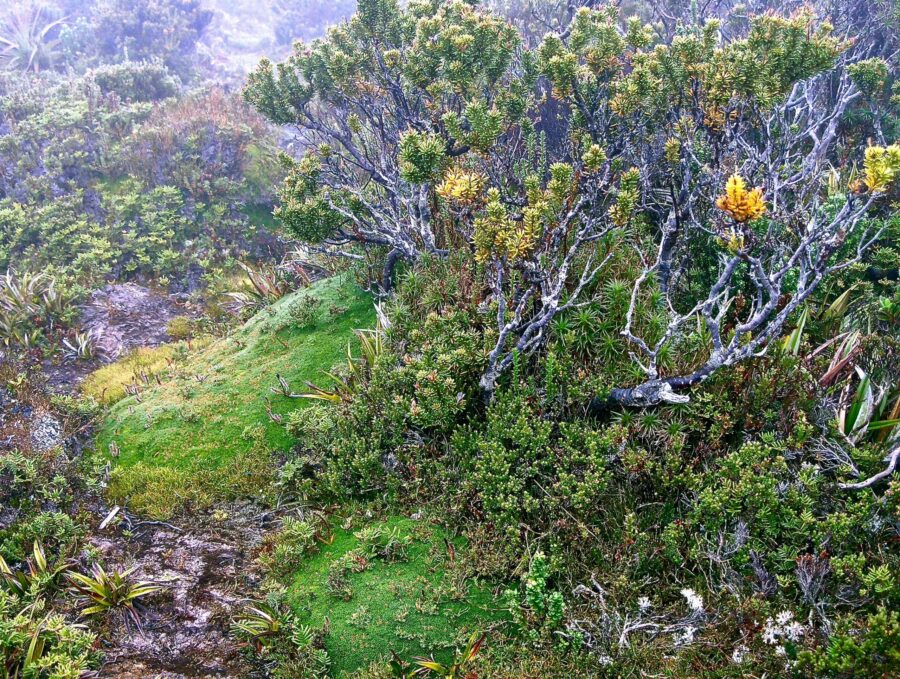 Hundreds of plant species thrive, sharing the pristine heath ecosystem in the Hartz Mountains National Park
Complete health and wellbeing depends on sharing the goodness of nature and biodiversity

 
Every so often a profound personality crosses our path and one of these, has booked four Nature Bound tours since 2009. He is well known for his stirring of mindsets and actions within thought leaders and politicians. Also advocacy for senior's health and wellbeing and  "shared good" being an essential objective for a new Australian vision.
His website, "The Shared Good", also reflects the input of 50 eminent Australians and challenges the notion of self-absorbed people losing their sense of community.
He suggests change should be fostered by communities and not imposed by governments and all of us should live in harmony with the natural environment.
Decades of silent decline have slipped by
Today, much of corporate governance revolves around individualism,  qualifications, connections, influence, power and ego. Further, mature institutions, faced with error or public criticism, ignited by media, can assume a defensive culture of their own. This despite the personal values and mutual ideals of staff and management and even institutional founders.
Other enlightened organisations are emerging, focusing on shared projects in which serious corporate policy and profit are directed toward community good. With this comes an increase in social licence, branding and market share in an enterprise context.
The advent of Coronavirus impact on the health and economies of global nations has highlighted an opportunity for change, a re-set of individual and community progress around shared good.
Project collaboration and delivery may also involve government and not for profit organisations all sharing a common cause.
This awakening of intellect is not new, if you consider our wealth of Indigenous wisdom and our own acknowledgement of  positive Indigenous values
We have much to learn from the sharing of Aboriginal Wisdom
Imagine our First Peoples assimilating and dealing with all the environments and unknown challenges, dangers and risks our vast continent has presented over 60,000 years, including droughts, floods and yes, climate change.
Their survival depended, in part, on a sharing of knowledge and wisdom across generations, tribes and nations – an unwavering cultural commitment to country and vital resource management.
They had no desire to own land but instead the land owned them. All species were their equal in creation. This called for responsibility toward the caring and sharing of nature's offerings. 
Life and respect centred around sharing within an extended family.
Much of the conflict between First Peoples and colonial new-comers centred around a differing cultural understanding of sharing sacred environments and resources.
Symbiosis is all around – species inhabiting and sharing for mutual benefit
Barnacles ride on whales bound for plankton rich waters.
Butterfly caterpillars with insatiable appetites help to defoliate and control the spread of Mistletoe parasite on Australian trees.
The helmeted Southern Cassowary feeds on the large fruits of the rainforest and through its digestive system, prepares and distributes the seeds widely, assisting the regeneration and future of world heritage forest.
 Fire is a natural part of our landscape with many of our native plant species depending upon it. Fire was a land management tool of our First Peoples.
There is much to learn by the symbiotic relationships between species in nature's tried and tested heritage. Also in the discoveries and adoption of solutions in Biomimicry.
The joys of complete health and wellbeing in Australia rest with sharing the good
Our calling is to share harmony with nature, protecting the health of our ecosystems and biodiversity. Why?
We are part of nature and live within a natural envelope called an ecosystem, along with all other species.
These ecosystems vary geographically but are the foundation of what is known as Biodiversity, the variation of life forms which collectively strengthen life on earth – our life support systems. 
The more biodiverse our living environment, free of human created degradation, the greater the prospects for our health and social wellbeing. This should determine where and how we live and our responsibility towards the environment, our economic priorities.
Natural ecosystems exist to filter our air and water, provide quality food, regulate climate, control diseases and pests.  Forests regulate air quality and filter water catchments. Mangroves provide food and protect coastal areas from storm surges.
Nature and green areas support positive physical and mental health, stimulating a balanced mindset within children; improving social dysfunction; off-setting anxiety, depression and attention deficit disorders. Nature freely supports us all, irrespective of age or background.
Indeed, the loss of biodiversity has been linked to the prevalence of infectious diseases and allergies, the spread of insects. Even, blue-green algae toxins leading to liver damage, gastroenteritis, skin irritations and fatal diseases.
All of this is carefully presented by eminent, concerned professionals, the Doctors for The Environment Australia organisation in their "Healthy Planet – Healthy People" cause.
At Nature Bound Australia, every tour provides immersive opportunities for guests to connect with nature and experience pristine biodiverse environments. These are protected in iconic National Parks or in glorious remoteness, the remaining wilderness of the outback.
This can lead to a guest personally and privately realising the extent of nature deficit in his or her home environment and reassessing the real value of present lifestyle.
Stay connected.  Subscribe now for informative online insights into nature and news of "off the beaten track" adventure holidays.
Associated Links – The Shared Good.   Nature Bound tour Destinations and Experiences
0