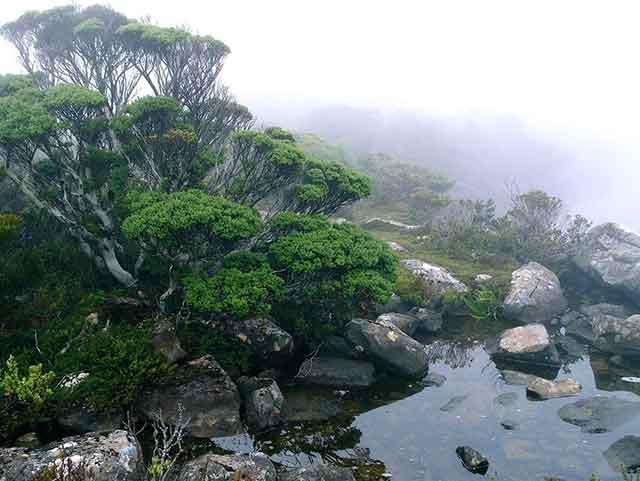 The tonic of wilderness - a solitary moment, life with nature on the edge of Lake Esperance, Tasmania
I am often asked where my passion for taking people into the Australian bush, was born. What is the hidden story behind my life with nature, which I regard as an essential connection?
The story is simple but with a corporate twist, so here goes, with apologies for the indulgence, my life profile in 16 giant leaps, from childhood to present day.
Life with nature started with a search for health
1. Being ill with respiratory inflictions as a child, medical specialists urged my parents to relocate the family to the country and escape the Sydney city environment, a bold decision at the time but ironically a much sought after "tree-change" for discerning people today.
2. Raised in the rarified air of New England Tablelands connection with farmers and nature became an everyday experience and joy – an adventure many children of today sadly and unknowingly miss, given their virtual reality pursuits. Now nature deficit disorder in children has been linked globally to a range of health and social problems.
Life with nature – thanks to Percy
3. Given a sporting family background and with wellness at the core, I was encouraged into a promising athletics career during which I lived with a renowned coach of Olympic champions, Percy Cerutty, who advocated training naturally, running freely and spirited in the Portsea sand hills of Victoria.
4. The athletics career came to a sudden halt which led to the joys of bushwalking, great friendships and nature based experiences leading NGO groups on excursions in the National Parks of Australia, USA and NZ.
5. All this time I was carving out a career in property development and valuing, while staring down glaring differences between the abundant beauty of a natural world, the pressures of career and lifestyle draining the faces and health of corporate executives around me.
6. I established our family business in major event management which brought me into clear perspective with the bush and its people, health advocacy, human endeavour, sports stars, corporate and community projects. I shared common values with project associates who were holidaying in the wilds of Alaska and Africa and occasionally with me on Fraser Island.
Living a life with nature – in the bush
7. My dear wife Roslyn and I purchased a delightful small rural acreage on which to escape and raise two wonderful daughters. As a family we engaged in Macadamia production, the breeding and riding of Arabian endurance horses through the Australian bush. Here we enjoyed the friendship and inspiration of the legendary Australian bushman RM Williams who enriched me with campfire insights into his life values and stories.
8. We started designing and leading outback, national park and wilderness tours professionally driven by our appreciation for nature, beckoning iconic scenery and Australia's bush heritage.
Profound observations
9. While on tour we observed the growth of mainstream tour operators presenting "bucket list" style, "conveyor-belt excursions" offering limited immersive experiences to unwary souls.
10. Our growing list of guests were people who valued experiences beyond the city, successful in their own business careers but like us, seeking more. On one moonlit night, gazing up at the silhouette of a nearby mountain peak, a client declared we were really in the business of slowing people down and urged that every executive and his wife should take in our experiences to find balance in their lives.
11. Perched on a commanding rock in the New England wilderness another guest, a London based psychotherapist, explained how our tours were having a profound growth affect on our guest's lives – though to us it was simply nature at work.
12. All around us we were increasingly observing people seriously disconnected from nature, trapped in work and lifestyle pursuits, in stark contrast to our experiences and convictions.
Convinced people need a life with nature
13. This led to my study of the global concerns around Nature Deficit Disorder in families, the loss and degradation of Natural Capital plunging businesses and supply chains into risk, the growing need for companies and thought-leaders to invest in shared value critical to the future of humanity. Today all three causes are growing exponentially around the globe.
14. I realised all the health and social issues had a common theme, that we are after all part of nature and there is risk in wrongly assuming we have dominion over it in our pursuit of profits. Further, to achieve positive change, individuals need firstly to reconnect, experience and appreciate nature. Change founded in appreciation rather than continuing conflict.
15. This has given renewed energy and purpose to our touring company Nature Bound Australia taking business executives and owners, their families, friends and associates on inspirational tours into the Australian bush and outback; to facilitate balance and vitality, time and space to reflect on values and objectives, privately in a comfortable and secure environment. Then to return home refreshed with a new purpose.
16. Our forward vision is to ensure connection to nature, first and foremost, remains at the heart of every guest's and our family's wellbeing, their primal being. Let us know if this journey has a parallel to your own.
"We need the tonic of wilderness.  We can never have enough of nature" – Henry David Thoreau
0