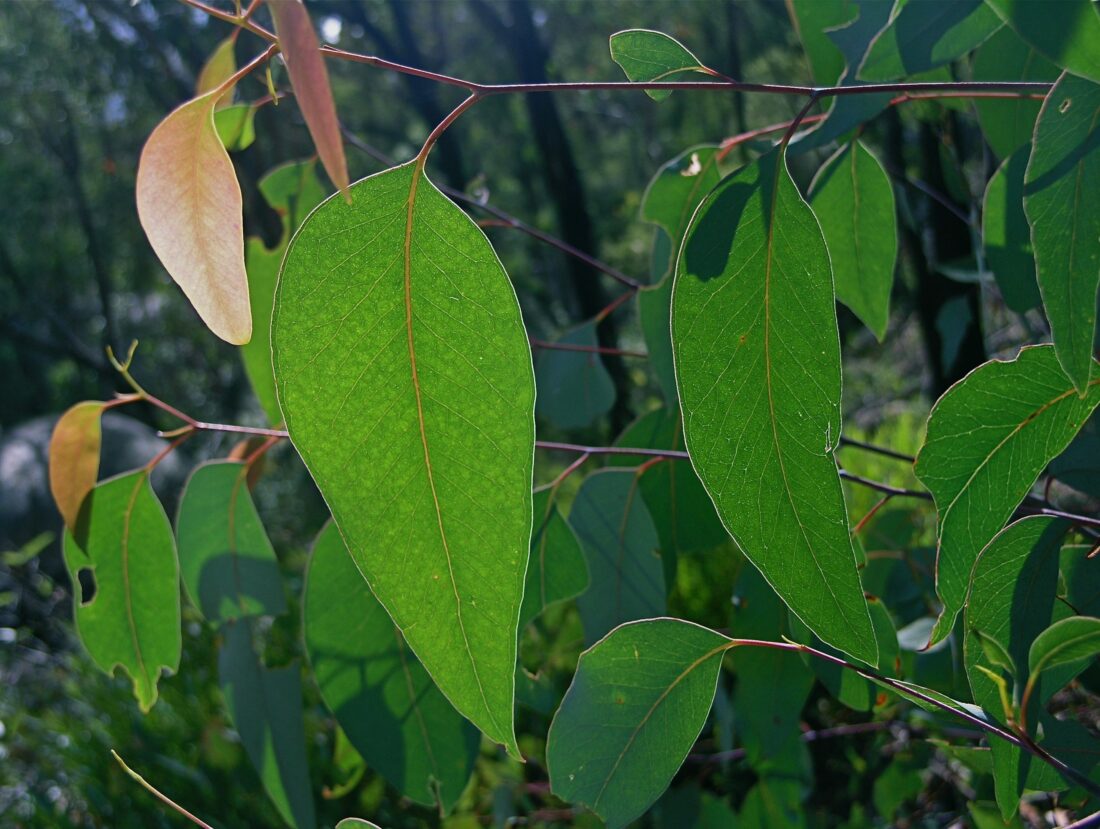 Biomimicry design as seen in a Eucalyptus leaf's water and nutrient veins
What is Biomimicry design and nature's problem solving role in life?
The planet is stressed with man's impact on its ecosystems.
The future biodiversity of our landscapes depends on our appreciation and protection of nature.
To fully appreciate nature we must firstly recognise its role in our existence.
Increasingly, scientists and researchers are seeking to apply nature's designs in a quest to solve complex human problems. This process is called Biomimicry.
Biomimicry design involves the study of how life works, given nature's solutions have been tried and tested naturally over the ages. 
The Biomimicry Institute suggests discoveries to date have led to nature contributing to advances in energy, architecture, transport, agriculture, medicine and communications.
So much is still to be discovered and learnt, which points to our sleeping potential.
The underlying lesson is, on a nature based tour, your curiosity can flow to the sleeping potential of nature's designs and detail existing all around you, if you take the time to wonder why things are functioning symbiotically as they are.
Biomimicry involves a unique partnership with nature
As tour operators advocating the importance of nature we can not claim to be experts in the scientific disciplines or complex application of nature's designs. 
However, we find achievements in this field worth celebrating, highlighting the primal partnership we share with nature and where we ultimately fit into "life".
The following amazing adaptions of nature's design solutions are testimony to mankind working with nature's way, understanding our connection and purpose rather than us assuming brute force dominion over it.
Here are 15 amazing examples of Biomimicry
The veins of a leaf carry water and nutrients through design networks. These designs have been an inspiration for new water and electricity distribution networks across communities. Such networks have also been found in blood vessels of the eye retina, coral design and the structural veins of insect wings.
The serrated feathers of an owl's wing enable this silent predator to swoop on prey. This has inspired mechanical engineers to design large fans and turbines with little noise.
Geckos feet have inspired the tread design of athletic training shoes offering unrelenting wet weather grip.
Stealth bomber planes have been designed around the speed and physical form of birds of prey, like the world's fastest, the Peregrin Falcon.
Mercedes Benz in remodelling a new car with rigid lightweight components, reducing drag and enhancing fuel efficiency, were inspired by the reef cruising Yellow Box Fish.
Mechanical engineers have been studying the anatomy of a bounding kangaroo as inspiration to achieving robot exploration over difficult access terrain.
The Lotus Leaf with its water resistant leaf surface is inspiring the future treatment of self-cleaning windows and other surfaces including the prevention of yogurt sticking to the inner surface of foiled container lids.
Termites are nature's great engineers, their mounds having inspired the design of climate and temperature controlled office buildings, saving in energy and air-conditioning costs.
The beak of an Australian Kingfisher bird inspired the nose design of the world's fastest train.
The dreaded mosquito bite penetrating our skin with little awareness or pain has inspired the intricate design of smooth penetrating needles used by neurosurgeons in delicate brain operations.
Dolphins have the capacity to recognise the calls of others over long distances under water, inspiring a high-performance underwater modem designed to transmit data in tsunami early warning systems.
Tiny contours and crinkles on the surface of leaves enable more light rays to be absorbed, inspiring greater engineering efficiency in solar panel cells.
The tendril networks of slime mould have inspired studies into the efficiency of road and rail networks.
The height of a giraffe from head to foot requires efficient blood flow under enormous lethal pressure. This requires the automatic contraction of arteries and a tough non-elastic skin over its neck and legs to prevent swelling and ulcers. This inspired the anti-gravity design of suits worn by astronauts and fighter pilots wishing to maintain normal blood circulation while under pressure.
Penguin's eyes have an external liquid that filters ultra-violet rays, this inspiring the design of goggles, lenses and masks worn by pilots.
Observing detail is the key to a fulfilling Nature Bound outback holiday. Take the time to observe and wonder.
Start with a visit to our Top Destinations and Experiences Page
With so much to discover, it is an opportunity to see the world around you in a different light. 
Stay Connected.  Subscribe now for informative online insights into nature and news of "off the beaten track" adventure holidays.
Further reference: The Biomimicry Institute
0