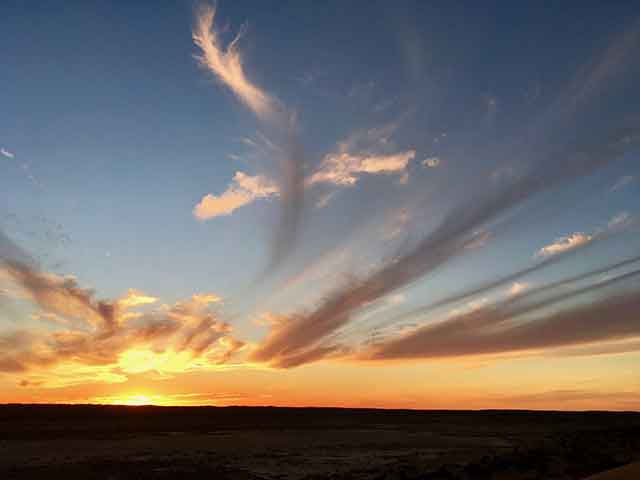 Sunset over the remote outpost of Innamincka
Discover the real Australia in the Corner Country
It was inevitable, guests on our recent Corner Country Outback Tour should reflect on the question, "What is the real Australia?" Is it the raw beauty and vastness of arid landscapes that are so psychologically enriching or the spirit of local people etching out a life in isolation with simple gratitude? 
Enjoy this insight – our guest's journey through the Strzelecki, Sturt's Stony and Simpson Deserts.
It is here the expansive gibber plains and red sand ridges draw you in to the colour and form, a  journey into the inner self.
To sit or roam awhile connecting with all your senses – the quiet, the gentle breeze, the clouds washing over far horizons, is inspirational.
Rugged "Jump Up" ranges and mesas 450 million years in the making are breaking away, forming stony plains with ephemeral drainage lines or creeks meandering across the awesome expanse, in places denuded and abandoned by historic pastoral enterprises, where 80,000 sheep once grazed.
Serenity and river gums frame the burial sites of Burke and Wills who tragically pursued the challenge and desire to be the first to cross Australia south to north, then return, driven by the ambitious agendas of colonial Victoria and arrogance in the face of Indigenous advice.
The Corner Country unveils the daily splendour of glorious sunrises and sunsets in soothing hues, enabling you to enrich your soul for a golden hour or so.
Along the legendary Cooper Creek flood plain, 250 year old Coolabahs, share the river bank with grand sentinels, the River Red Gums.
In this dry region of the driest habitable continent, water is the key to all life and dominates the mindset.  The occasional water hole welcomes Wedge-tailed Eagles, colourful Finches and Galahs home, while prime beef stock relax, grazing the organic grasses.
Boiling water bursts direct from the Great Artesian Basin, 1280 metres below, flowing along surface channels to cooling ponds, town treatment and consumption. 
The tour is fully accommodated and catered but local wildlife is ever present in the historic and remote Birdsville Hotel where the celebrated "Green Lizard Bar" and legend embodies an irreverent sense of bush humour.
The champagne flowed when tour guests scaled the Big Red sand ridge to celebrate the sunset, an eerie silence and the good life, exclusively away from invasive crowds.
Only in the remote village of Tibooburra do faithful dogs wait patiently on the pub window sill, late at night, for their masters to drink their last drop. Here, it's considered un-Australian to pass by the local pub, the social heart of town, without popping in.
Here too in tiny outposts and communities, passionate ladies work tirelessly for nature based causes. Like the delicate recovery and treatment of giant dinosaurs and megafauna dating back 90 million years, or in saving the impressionable Bilbies from extinction.
We will return to the Corner Country Outback Tour again for more adventure and discoveries.
0