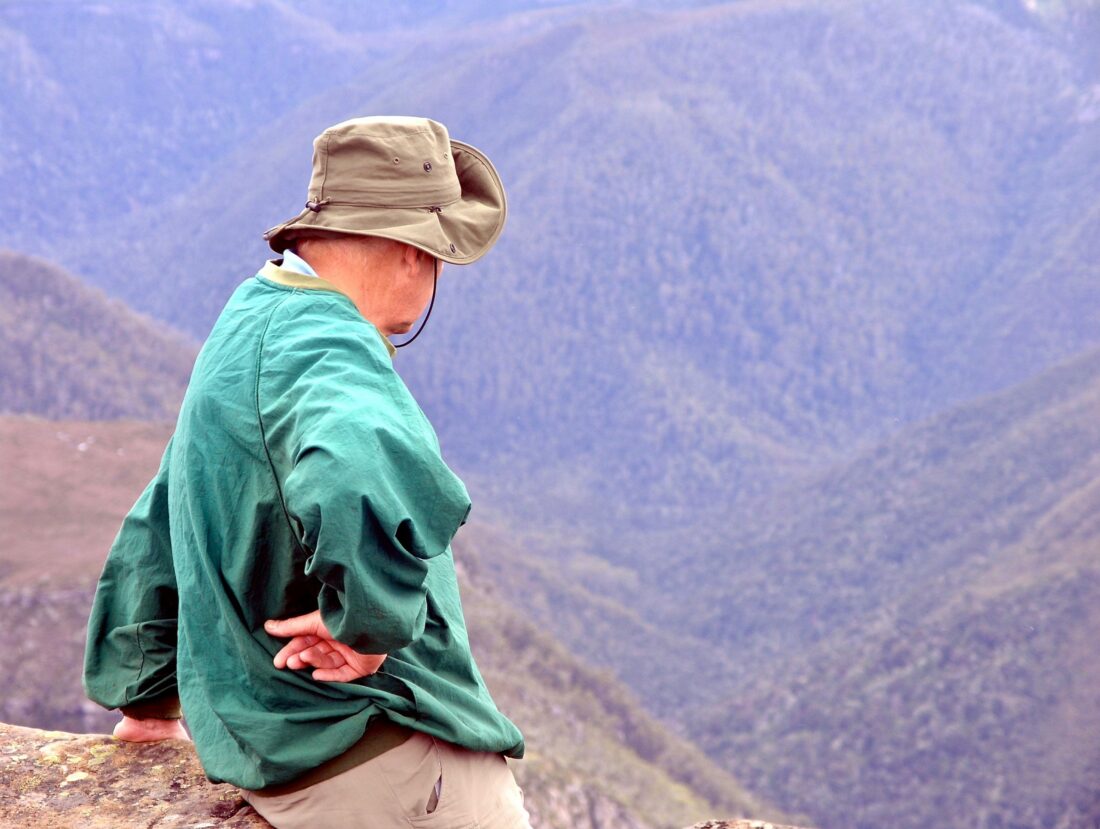 A travel bucket list requires immersion and contemplation to become a life enriching experience, as witnessed here on the summit of Cradle Mountain
Find life beyond your Australian travel "Bucket List"
Fact is, most people initially choose a holiday tour because it promises them a travel "bucket list" of places and features they have  longed to see.
A "bucket list" tour, typically involves participants, armed with limited research, visiting each feature in awe but remaining emotionally disconnected from the place or feature. Merely a visitor, travelling through. For whatever reason "seen that – done that – what's next?"
Every day, a Nature Bound journey offers opportunity for guests to immerse themselves physically, mentally and emotionally in a place and space, a natural ecosystem. Whether it is on a mountain summit, deep in a forest or a desert wilderness, immersion and mindfulness await.
It is a chance to be bonded with the whole, the "all", rather than just passing through. 
Strangely, "bucket list" travel can leave people in a state of satisfaction and achievement but still in relative ignorance of the whole. Unaware or unable to embrace the real essence of a tour beyond a great itinerary, the knowledgable guide, the extraordinary features, the creature comforts. 
We have witnessed people, having walked through a world heritage forest, on completion being unable to express any impact it has had on their senses.
Others may even choose to sit in judgement or critique, of whether their "bucket list" expectations were fulfilled or non. All of this points to mankind's disconnection from the real richness of life.
For those more relaxed, open and attuned to the whole, the "all", their holiday becomes an "experience".
Consider these experiential moments awaiting you on a Nature Bound tour
Some random experiences – special moments to capture the soul
Corner Country Outback Tour – First strains of a tranquil dawn wash over you, as you stand solo in the untamed wilderness of Cooper Creek. The morning fresh and soft pink hue, the majestic River Red Gums, cruising Pelicans and chorus of the Whistling Kites awaken all your senses.
Uniquely Australia National Parks Tour – Finding personal solitude in a sandstone shelter or hidden canyon of Carnarvon Gorge, knowing 3000 years ago life in this oasis, beneath the towering walls was a place of secret Aboriginal business and inspired story telling.
Adelaide to Alice Springs Classic Outback Tour – Wandering into the surreal but glorious void of white, a vastness reaching forever beyond the Lake Eyre horizon, the place and space is devoid of all life, except your own
Australia World Heritage Wilderness Tour – Arriving at Wrights Lookout, perched on the edge of the ancient volcanic escarpment, untracked wilderness ridges draw your gaze 75 kms from 1564m elevation to the Pacific Ocean beaches beyond
Great Divide Iconic Landscapes Tour – A secluded rock ledge on the summit of Bald Rock, largest granite monolith in the Southern Hemisphere with 360 degree panoramas over the unruly granite belt below. A decorated Cunningham Skink slides out  from his hide to check you out
Big Rivers Outback Tour– Sunset bringing glory to the strange weathered landscape of Mungo National Park where the lakeside lunette holds the deepest of First Peoples history, your contemplation drifting back 40,000 years
Outback to Reef Tour – Floating with the marine residents in the azure lagoon of Lady Musgrave Island or wandering quietly across the pristine coral cay, through the home of nesting Noddys 
Tasmania National Parks Tour – At trail's end on Cape Raoul, a lofty eagles view of towering dolerite pillars defying the wild southern ocean below. Marine life find sanctuary on the rocky ledges, free from man's intrusion
Central Australia Red Centre Tour – Exploring the sandy trail through massive pink and purple boulders discarded by the twisted red walls of Ormiston Gorge above. Lonely ghost gums cling to 760 million years of geological wonder
Stay Connected.  Subscribe now for informative online insights into nature and news of "off the beaten track" adventure holidays.
0