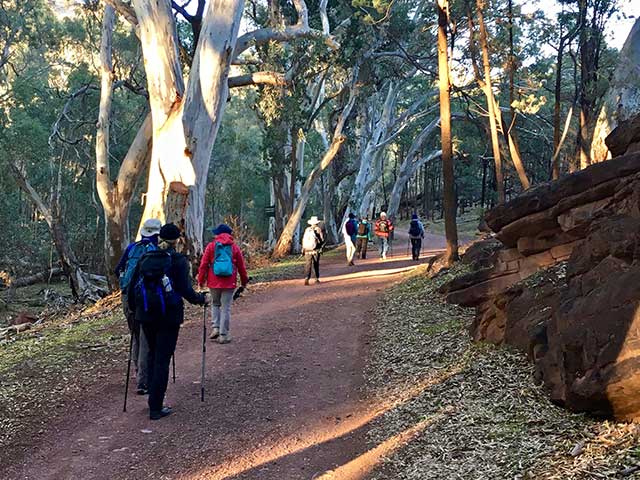 Early morning walk to Wilpena Pound
There is a Spirit of Adventure in us all, ready for the awakening
Yes, the world is better for the vital contribution and achievements of women and their unsung spirit of adventure, not only in travel but in fields of business, politics, care, family or personal endeavour, beyond belief. Contributions both acknowledged or sadly taken for granted.
With a predominance of Over 50's Traveller women enquiring and booking our Nature Bound Australia tours it is time to understand why and to celebrate their spirit of adventure within.
Perhaps an opportunity to awaken your spirit of adventure too. For you to break free and discover a new lease on life. So consider the following:
Do you seek practical and inspirational qualities in a holiday tour?
Adventure beyond the comfort and indulgence of resorts offering orchestrated activities
Leadership courtesy, patience and understanding of your unique needs and journey
Organisation, comfort and security in remote outback journeys which many aspire to but few dare to go
Cherished memories of place, experiences, emotions and authenticity
Do you wish to be yourself?
To find release from the expectations imposed by well meaning family, friends and work colleagues, a chance to respond to your inner calling, free of judgement
To adventure beyond your comfort zone in the company of strangers sharing a common interest
To "let your hair down" and respond to adventure spontaneously
Do you wish to pursue your creative interests, inspired by nature?
To follow your primal instincts
To capture photographically your awareness of place, creatures and emotions
To take home evidence of colour, texture and form
Do you seek new horizons of fun, ready to surprise yourself?
To be inspired by fellow guests and newfound travel friends
To do the unthinkable and let go, achieving what you thought was impossible
To reach goals and awareness beyond your expectations
Do you need added incentive?
To start a health and fitness regime driven by a once in a lifetime reward 
To grow mindfully and spiritually through holiday preparation, study and awareness
To defy the possibility of ageing 
Do you need to put your everyday life aside?
To retreat from city confines
To explore beyond your comfort zones
To discover the restorative power of nature
Do you have an inner soul calling?
To further your cultural sensitivity and environmental respect
To be at one with nature's way, other living creatures and the call of the wild
To nurture your natural values, your role as a parent or elder
To rediscover all your senses and cherish moments of mindfulness
Would you like to be inspired by women of the outback?
– "Salt of the earth" beings who unselfishly achieve, care, support, organise and mentor all who pass their way.
For all these values and through tour design, communication, empathy, guidance and passion, we at Nature Bound Australia choose to celebrate and facilitate the spirit of adventure in all who participate in our tours.
2