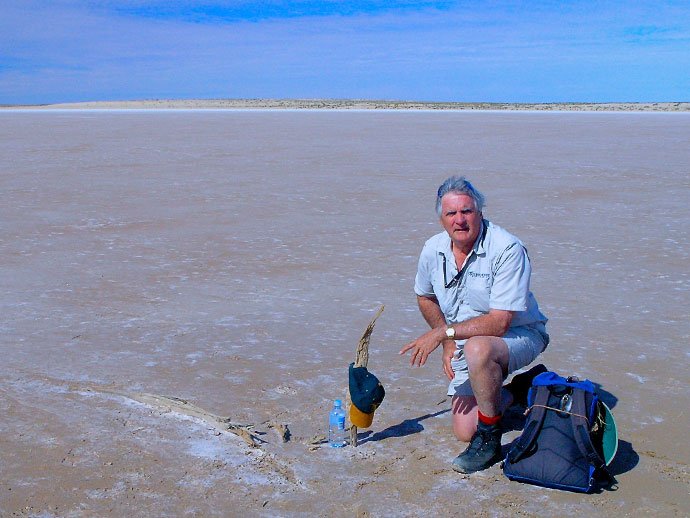 A visit to Lake Eyre is an extraordinary surreal experience only believed and understood by being there
We are bound for Lake Eyre Australia
Today we took our guests to Lake Eyre Australia, an unreachable landmark for most Australians. This great salt sink in the desert heart is the lowest point in Australia at 15.2 m below sea level.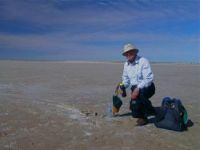 The Lake Eyre basin extends into three states, and occupies 1/6th of the Australian continent, equal in size to the State of South Australia.
At 1.3 million sq kms it is the biggest drainage systems in the world. Much of its waters are currently under flood, flowing down from Queensland. To date it has only filled three times in 150 years and for the last few weeks it has been filling again.
We reached Madigans Gulf, a sight to behold, along a 4WD road passing through the other iconic feature, the 5,600kms feral Dingo barrier fence. Geologists believe 20,000 to 50,000 yrs ago the lake was permanently full. Its drying is a consequence of climate change over 15,000 yrs. The salt crust in the centre is 5m thick.
The sense of place becomes a surreal experience.
On arrival our expectant group couldn't resist bounding straight out onto the great salt expanse determined to experience the sense of isolation and mystique the lake holds and what it is like to walk on.
Thinking we could see water in the distance, we walked towards it. The more we walked the more we discovered a mirage forming all around. The  white salt of the lake was fusing with the sky leaving us with an eerie feeling of infinity.
Some group members turned back immediately to remain connected with the surrounding desert dunes and our vehicle. Others beat on like intrepid explorers into the never never, toward a solitary stick planted by a prankster in the crusty surface. After 2 kms they decided the 150 kms to the other side of the lake was probably a trifle far. The mirage just kept moving along with them.
So it was with a great sense of achievement we all headed back to the vehicle and our base at Marree along the rutted 4wd track coated with bull-dust. We had achieved the extraordinary – to walk on Lake Eyre Australia. And tomorrow we have a light aircraft flight arranged over the lake. We'll view the flood waters and some of the 20,000 pelicans which have commenced breeding on one of the temporary islands.
For more insights into Kati Thanda-Lake Eyre visit our latest article.
Lake Eyre Australia remains a once in a lifetime experience for any spirited traveller of Australia's desert heartland. You can experience Lake Eyre on our next small group tour from Adelaide To Alice Springs. If you wish to know more enquire online, email direct or telephone us on (+61) 07 55140873
0