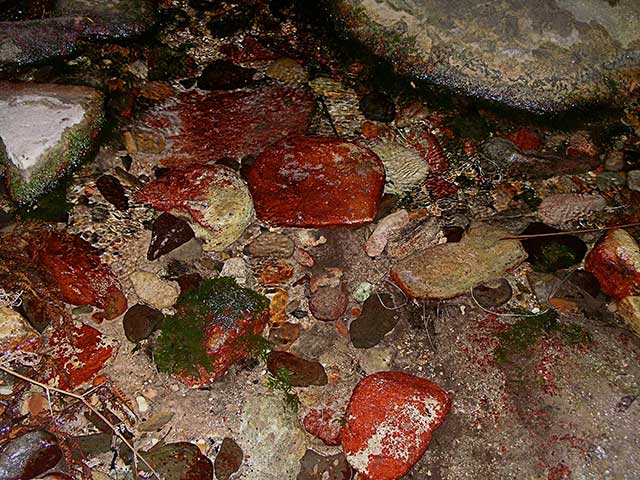 Colour and texture under water in a hidden canyon
Missing the extraordinary, within the ordinary ?
In our rush through life, most of us see only the broader picture rather than the detail. Given advances in technology, the smart phone now enables us to take images and in so doing pursue our creative potential.
One solution is to grab your smart phone or camera and head into the creative world of nature.
Here are 13 good reasons to connect with nature through the lens of a camera
1. The camera can be your medium for stopping a while, to slow down and focus on life in detail. 
2. Distraction by colour, form or texture means a chance to celebrate something positive and beautiful in life.
3. Once engaged with a subject, more angles or frames, greater detail and creative potential emerge.
4. Your captured image can stimulate further imagination, study and awareness.
5. Inspiration arising from an image is part of the creative flow.
6. Take home a visual record of nature, inspired to pursue other creative endeavours.
7. An image will enhance your story telling, way beyond the spoken word.
8. Sharing images can lead to a hearty social collaboration with others.
9. Capture moments visually, to share with others not so fortunate to be present.
10. As a parent, elder or advocate, spread the message visually about the value of nature.
11. Time spent capturing images in nature is time dedicated to wellness therapy.
12. Every image taken carries a timeless reminder of experience and moment, recalled when viewed years later.
13. Beauty is the elixir of life.
The potential of nature
Each year we start our Tasmanian National Parks tour with a visit to the Wilderness Gallery at Cradle Mountain exhibiting the creative works of nature loving photographers. 
This proves to be a transformative experience leaving our guests to step out on the walking trails viewing the world around them in far more detail and finite clarity. 
What we learn from this is, nature offers no bounds. Nature contains practical and emotional lessons in life. We term it, "Nature's Way".
Nature encourages us to see life in a different frame, available to us everywhere at no cost and has a longevity beyond our years.
Given it is now easy to carry a smart phone or small camera in your walking kit, you are ready to head out and capture all the creative possibilities.
From world heritage islands to the remote outback, the wilderness forests of Tasmania to the glorious Red Centre our Nature Bound tours are never short of creative possibilities. Visit our short videos for added insight.
0