A Nature Bound Tour Group enjoying a coffee/tea break while crossing the South Australia outback
Nature Bound's response to the Australia wide travel restrictions
Allow us to drop into your self-isolation "bunker" with an important COVID-19 Travel Update
Here for all our guests, is how we are responding to the global pandemic concerning us all. We are well and active in the Nature Bound "bunker" but not immune from the significant impact COVID-19 is having on all tour operators throughout Australia and internationally.
Current situation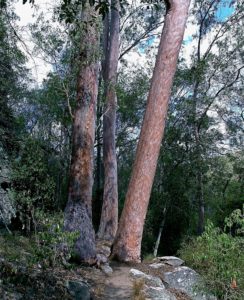 We have suspended all our tours through to late August 2020, due to:
Government Virus policies and directions restricting group connectivity
State borders being officially closed
Most National Parks being closed with accredited tour operator access being suspended
Third-party service providers having to suspend their operations during the tourism downturn
Refund arrangements have been completed with all guests for all tours suspended, in the spirit of normal terms and conditions. This in contrast to some operators who sadly, have determined their existing bookings, for tours suspended, will not be redeemable for cash.
All our guests have expressed a desire to return to our similar tours in 2021. This is a wonderful vote of confidence in our personalised operations and ethos. Thank you!
The health, safety and enjoyment of all our guests is paramount. This will continue with best practices, long after the Virus has "departed". We will request the completion of a "Health Declaration" from all guests in the future. An added precaution and peace of mind for all staff and participants in future tours. 
We are reminded, all our tours head into clean air, uncluttered or uncrowded regions, far remote from the city environments.
Self-isolation provides a great place and moments to research and plan your next holiday
We are offering tours from August 23 this year starting with our  Uniquely Australia National Parks Tour . We have entered the market early with a full range of tour departures and prices for 2021. These can be found on our all new website. 
All future bookings and enquiries for specific tours will be received in order and in trust. This, subject to circumstances and restrictions relating to the pandemic being lifted, enabling each tour to proceed. Deposits will be waived until requested, meaning restrictions around a relevant tour have been lifted.
So now is the time to turn a holiday dream in Australia into a financially risk-free reservation. Secure a priority place on your preferred tour, in late 2020 or 2021 complete. 
Start with your enquiry.
Stay Connected  Subscribe now for informative online insights into nature and news of "off the beaten track" adventure holidays.
Thank you all. Moving along, stay connected, stay safe and well.
John and Roslyn
0